Sacramento Mayor Kevin Johnson and GEA kick off the 2010 Geothermal Energy Expo
Sacramento, Calif. (October 22, 2010) – Today at a press preview for the 2010 Geothermal Energy Expo, hosted by the Geothermal Energy Association (GEA), Executive Director Karl Gawell announced the findings of new industry reports that show the geothermal industry will add thousands of jobs as dozens of new clean geothermal power plants come online or enter advanced stages of development.

GEA released reports on job creation in the geothermal industry and an industry update that showed how the industry is creating more jobs than conventional energy and is creating jobs that are permanent, full-time, and often provide a higher wage; in some cases with pay that doubles county and state averages.
The GEA report—"Green Jobs through Geothermal Energy"—found that the federal stimulus, tax incentives, and strong state renewable standards continue to fuel the growth in geothermal power and job creation. Every geothermal project that came online in 2009 took advantage of the tax reimbursement provisions of the stimulus bill, which helped maintain momentum for new projects and continue to create new jobs in America. Four of the top five states with geothermal power under development have substantial renewable electricity standards. In addition, the benefits of the stimulus to the geothermal industry have yet to be fully realized. About 95% of the projects receiving ARRA funding are either less than 50% complete or have yet to break ground.
"Recovery Act funding is going to make a huge difference over the next year to push projects to completion and create more jobs. The majority of the ARRA investment will really start to pay dividends for the economy in 2011," said Karl Gawell, GEA Executive Director. "It is critical that we continue to support these sound policies despite the rancor of several short-sighted initiatives which seek to strip away these tools to help grow our economy."
GEA anticipates that 2011 will be a high-point of geothermal activity in the US under the stimulus legislation. There will be approximately 500 to 700 Megawatts of power projects in the final construction phase in 2011, and these projects will add approximately 3,000 construction jobs, primarily in Nevada and California. ARRA also appears to have drawn a diverse group into the geothermal sector. Almost half of the Geothermal Technologies Program awards from the stimulus went to non-industry entities such as colleges and universities; cities, counties, and other state and local institutions; tribal entities; and The Department of Energy's National Labs.
"Ram Power is proud to be part of the burgeoning geothermal industry in the Western U.S. which owes its existence and robustness to the support of the state and federal mandates and incentives. We believe that the Imperial Valley in Southern California and the Geysers in Northern California are two world class geothermal resource areas and we are diligently working to finance and execute more than 300MW of projects, for which we have power sales agreements. Over $1B will ultimately be invested in Ram projects in California—creating drilling and construction jobs as well as high-paying, permanent plant operations jobs across the state," said Jeremy Magrath, Project Manager, Business Development, Ram Power Inc.
"Potter Drilling is developing a revolutionary hard rock drilling technology that holds the promise to lower the cost and risk of developing geothermal power. Recovery act funding has helped Potter Drilling to create and maintain high paying green jobs and to accelerate development of our technology," said Jared Potter, CEO, Potter Drilling Inc.
Figure 1: Advanced Phase Project Development 2006 – 2011
Source: GEA
As more geothermal industry jobs are being created, a number of colleges and universities across the country are emerging with undergraduate, graduate, and certification programs related to geothermal. GEA compiled the "US Geothermal Education and Training Guide" that details 22 undergraduate and graduate programs at U.S. colleges and universities. Additionally, 31 schools have research opportunities in geothermal studies available to students.
"To keep creating jobs in the geothermal industry, we must keep getting talented individuals coming into the industry. The programs at these leading schools will develop the next generation of geothermal professionals," Gawell said.
Sacramento Mayor Kevin Johnson welcomed the expected 2,500 attendees and 160 exhibitors to the world's largest Expo dedicated to geothermal power. "Sacramento is pleased to welcome the geothermal industry back to where geothermal power started in the United States," said Mayor Johnson. "Northern California has been a thriving hotspot for this activity for decades and we are thrilled to bring the geothermal community together from all around the world to our city for the 2010 Geothermal Energy Expo."
The 2010 Geothermal Energy Expo, held at the Sacramento Convention Center Oct. 24-27, is the world's largest gathering of geothermal professionals and showcases projects, equipment, services, and state of the art technology. A Virtual Job Fair connects qualified applicants with the industry's leading companies. Complimentary admission is available to college students. The Expo floor will be open to the public on Wed., Oct. 27, from 12:00pm to 2:00pm. More than 2,500 attendees and over 160 exhibitors are expected to attend. With new geothermal power projects in progress in fifteen states from the Pacific to the Gulf Coast, the expo has been rapidly expanding with the number of exhibitors at the Geothermal Energy Expo more than doubling since 2008.
"We have exhibitors from 31 states and 10 countries represented at this year's expo. With open admission to the public on Wednesday, Oct. 27 and complimentary admission to students for the entire expo, we are going to see the largest and most exciting Expo ever," said Kathy Kent, GEA Marketing and Events Manager
Leaders from the US geothermal power industry will discuss the findings in the "Green Jobs through Geothermal Energy" report at a press conference held in Sacramento, Calif., on Friday, Oct. 22, at 10:00am PT/1:00pm ET. To attend or receive dial-in information, please contact Garret Drexler, 646-695-7042 or garret@rosengrouppr.com. The complete reports are available at http://geo-energy.org/reports.aspx. For more information on the 2010 Geothermal Energy Expo, including exhibitors and schedule, visit: http://www.geothermalenergy2010.com/default.asp
About the Geothermal Energy Association:
The Geothermal Energy Association (GEA) is a trade association composed of U.S. companies who support the expanded use of geothermal energy and are developing geothermal resources worldwide for electrical power generation and direct-heat uses. GEA advocates for public policies that will promote the development and utilization of geothermal resources, provides a forum for the industry to discuss issues and problems, encourages research and development to improve geothermal technologies, presents industry views to governmental organizations, provides assistance for the export of geothermal goods and services, compiles statistical data about the geothermal industry, and conducts education and outreach projects. For more information, please visit http://www.geo-energy.org/. Check out GEA's YouTube Channel. Follow GEA on Twitter. Become a fan on Facebook.
# # #
Featured Product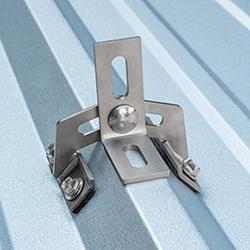 QuickBOLT Low Profile QuickBOLT with Microflashing™ is the industry's affordable, UL Certified Asphalt Shingle mounting system. The Microflashing™ is compressed by the collar on the bolt to create a water-tight seal. With an installation time of less than one minute, the Low Profile QuickBOLT allows installers to complete more jobs.