The Fuel Cell and Hydrogen Energy Association (FCHEA), has tapped Charlie Freese, General Motors (GM) top fuel cell executive, to chair its 2011 annual conference and expo.
Freese, executive director for GM's global fuel cell activities and responsible for moving GM's fuel cells into production, will chair "Fuel Cell and Hydrogen Energy 2011" Feb. 13-16 in Washington, D.C. The event expects to draw more than 1,500 attendees and 500 companies.

FCHEA is the fuel cell and hydrogen industry's leading trade group, formed by the recent merger of the U.S. Fuel Cell Council and the National Hydrogen Association to accelerate the commercialization of fuel cell and hydrogen energy technologies. The conference and expo, Fuel Cell and Hydrogen Energy 2011, is the new name for the continuation of the successful, 21-year old NHA Hydrogen Conference and Expo.
"Policy makers in Washington need to understand the vital role of fuel cells and hydrogen in the clean energy portfolio. In transportation, the inclusion of fuel cell electric vehicles (FCEVs) in the suite of clean energy options is essential to meeting our emissions goals and reducing our dependence on oil," said Freese. "Several auto companies have announced plans to make FCEVs commercially available by 2015. What we do in the next five years to prepare for this rollout is critical."
"Great strides have been made in the commercial deployment of fuel cells and hydrogen energy for a broad range of applications, including distributed generation of back-up and combined heat and power systems, fuel-cell powered forklifts, and portable power for electronic devices and emergency response systems," said Ruth Cox, president and executive director of FCHEA. "Fuel cells generating clean, efficient and reliable power, from a couple of watts to multi-megawatt installations, are gaining traction around the world."
Hydrogen infrastructure is an essential component to spur widespread market acceptance of fuel cell electric vehicles. It also makes fuel cells for other applications less expensive to operate, more efficient and paves the way to earlier market entry.
According to Freese, "Commercial viability of this technology for transportation depends on our ability as a nation to move hydrogen over distances and make it available and attractive to consumers at hydrogen fueling stations. For the customer, our efforts must culminate in a better car that is easy to refuel, doesn't use gasoline and doesn't emit anything but water vapor."
Japan, South Korea and Germany already recognize the potential of fuel cells and are aggressively building a hydrogen infrastructure as well as investing in fuel cell technology for uses ranging from consumer devices to transportation to buildings and utilities. The State of California is also moving forward with new hydrogen stations and private investment initiatives have been announced for Connecticut, New York and other states along the eastern seaboard.
"With leadership from every level of government, the U.S. can reclaim technology and economic leadership in hydrogen and fuel cells, just as we're starting to do with batteries," said Freese. "Fuel cell and battery technologies are complimentary. Development in one spurs development in the other. We can afford to lead in both. We must lead in both. "
Fuel Cell and Hydrogen Energy 2011 is the largest annual gathering of the fuel cell and hydrogen industries in the U.S. and, as such, will provide the ideal venue to introduce new products, create partnerships, announce accomplishments and plan the future of our industry. The members of the FCHEA and other key industry groups are working together with leaders like Freese to forge stronger industry and government commitments that will firmly establish fuel cells and hydrogen as key components of the nation's clean energy strategy.
"The fuel cell and hydrogen energy industry is at a pivotal moment," said Mike McGowan, co-chairman of the FCHEA. "New markets with significant commercial potential have emerged where customers are buying fuel cells for both electrical and thermal energy and the hydrogen systems to fuel them. Working together, we can grow these markets faster and open others. By expanding the number of hydrogen refueling stations for cars and buses, we enable the transition from the hundreds of vehicles currently in use to the thousands we anticipate in the next few years and the tens of thousands soon after."
The three-day event will provide examples of the real-world use of fuel cell and hydrogen energy technologies through over 100 keynote and expert speakers, dozens of sessions, 100 booths in the expo, the popular Ride and Drive, workshops and more. Expect to see applications such as vehicles, buses, and forklifts, fuel cells for prime power, combined heat and power, emergency power, and portable devices, hydrogen production equipment of all kinds and sizes, hydrogen dispensers, tanks, components and an endless variety of services offered by the more than 500 companies expected to participate.
"Much remains to be done to pave the way for broader commercial adoption, and we are fortunate to have Charlie chair this year's conference and lead the discussion of policies, products, programs and technologies that will facilitate the transition," Cox said.
About Fuel Cell and Hydrogen Energy 2011:
Fuel Cell and Hydrogen Energy 2011 is the new name for the 21-year old NHA Hydrogen Conference and Expo-- the largest hydrogen conference in the US the longest-running annual hydrogen conference in the world. Now expanded to include a wider focus on fuel cells, it expects to attract more than 1,500 business professionals and expo visitors who will come to learn about the latest advances, network with colleagues and build partnerships. The accompanying Expo will offer more than 100 exhibits, a Ride& Drive and demonstrations of latest in hydrogen energy and fuel cell technology. To register and learn more, visit: www.fuelcellandhydrogenenergy.org
About the Fuel Cell and Hydrogen Energy Association:
The Fuel Cell and Hydrogen Energy Association (FCHEA) is the world's premier advocacy organization dedicated to the commercialization of fuel cells and hydrogen energy technologies. Its membership represents the full spectrum of the supply chain, including universities, government laboratories and agencies, fuel cell materials, component and system manufacturers, hydrogen producers, fuel distributors, utilities and other end users. For more information, visit: www.fchea.org
Featured Product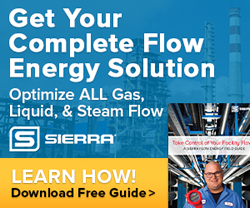 Download Flow Energy Guide - Written by Engineers For Engineers. Learn how to save on energy costs by optimizing your facility flows that impact costs like compressed air, natural gas, steam, and hot or chilled water.