The MDSS provides up to 30 percent savings in disconnect costs while providing safety and protection of key photovoltaic investments.
SAN JOSE, CA ― November 2010 ― Bentek Solar, a leader in the design and manufacturing of optimized Configure-To-Order solar combiners, re-combiners and solar safety systems, introduces its leading-edge Multiple Disconnect Safety System (MDSS). The MDSS provides up to 30 percent savings in disconnect costs while providing safety and protection of key photovoltaic investments.

MDSS provides customers with numerous benefits including reduced space requirements, material costs and labor costs, as well as complete isolation of inverter fuses.
MDSS product features include:
• From three to eight integrated disconnects per MDSS
• 600 or 1000 VDC disconnects
• Multiple 100, 200 and 400A disconnects in one MDSS
• Enclosure is NEMA-3R + dust tight, with removable bottom panels for wiring
• Handles mounted internally or externally
"For larger installations, it is more economical to install an MDSS with up to eight integrated disconnects vs. eight individual disconnects The MDSS can provide significant benefits in labor, materials and time, resulting in up to 30 percent savings in total disconnect costs," said Mitch Schoch, President and CEO of Bentek Solar.
"Our Multiple Disconnect Safety Systems are designed for large PV solar systems (250KW or greater) and are intended for installation next to the inverter. The MDSS provides customers with multiple UL 600VDC or IEC 1000VDC load-break disconnects combined in one safe, compact, easy-to-install enclosure," said Jim Peplinski, Chief Technology Officer of Bentek Solar.
For more information about Bentek Solar's Multiple Disconnect Safety Systems or to view online data sheets, visit www.BentekSolar.com.
###
About Bentek Solar
Founded in 1985, Bentek is a leader in manufacturing and engineering solutions for complex electro-mechanical and power distribution systems for the semiconductor and solar industries. Bentek has applied these extensive capabilities and knowledge into a comprehensive family of standard and configure-to-order (CTO) solar combiner products. These solar combiners provide quality, ease of installation and safety to the solar industry. For more information, contact Bentek Solar at 866-505-0303, e-mail JohnB@bentek.com or visit www.BentekSolar.com.
Featured Product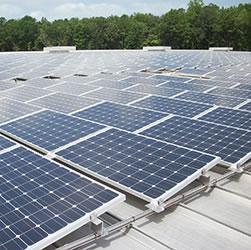 The Power Rail™ Commercial Mounting System is designed with the professional PV solar installer in mind. Both the XD/UD and LD/MD rails feature single tool assembly with the revolutionary patented RAD™ Lock-in-Place bolt for fast and secure module clamping. The high strength marine-grade aluminum rails include an integral wiring channel for securing cables and providing a professional finish.