OSolar has signed a Memorandum of Understanding (MOU) on 200MW PV projects in Brazil with the City of Taubaté, São Paulo.
OSolar to set foot on Brazil

- Signs MOU for a total of 200MW PV projects with the City of Taubaté
Seoul, November 3, 2010 – OSolar Ltd., an international Stakeholder and System Integrator, has taken another step forward and opened up a new market.
The company announced today that it has signed a Memorandum of Understanding (MOU) on PV projects in Brazil with the City of Taubaté, São Paulo on October 27.
Under the terms of the agreement, OSolar will conduct feasibility studies for the PV projects, arrange project financing, and provide PV power plants with a total capacity of 200MW with OSolar's world-class true utility-scale single-axis tracker.
The City has pledged to secure land for the projects and nominate OSolar for the City's - and furthermore South America's - very first utility-scale PV project development and realization.
Jihun Kim, co-CEO of OSolar said, "As Brazil is at the beginning stage of PV, this project is an especially exciting for OSolar to be involved in because we take pleasure in being the forerunner of a promising market".
Roberto Pereira Peixoto, Mayor of the City of Taubate stated, "The fruit for collaboration with OSolar will identify and promote PV industry in the City of Taubaté and by extension, it would become a historical case study across the nation".
About OSolar (www.osolar.com)
OSolar is an international 'Stakeholder and System Integrator'. A Stakeholder Integrator which means that integrates all the groups related to the PV business such as owners, lenders, developers, utility companies, installers, module manufacturers, etc. for more valuable business than ever.
OSolar has successfully implemented a variety of PV solutions over 100MW worldwide, including Asia's largest single-axis PV power plant (24MWp) in Korea and global projects in Japan, China, and the USA with wide-ranging experience and know-how, global technology and network. Currently, OSolar is carrying over 1,000MW of worldwide pipeline within next 3 years, including USA, Thailand, Taiwan, Japan, India and China.
About the City of Taubaté
Taubaté is a city in the State of São Paulo, in southeastern Brazil. Its strategic geographical location, between the three most important Brazilian regions (São Paulo (123 km), Rio de Janeiro(280km) and southern Minas Gerais state) and between high, cold mountains and the Atlantic Ocean has helped the development of the city in terms of industries, tourism and education etc.
The city has over 306,000 inhabitants with five universities and has become an industrial center, seating branches of several companies, including Volkswagen, Ford, LG, EMBRAER, USIMINAS among many others.
Taubaté has been ranked by the UNDP (United Nations Development Programme) the 21st out of 645 cities in the State in terms of quality of life (safety, schooling, medical and dental care, transportation facilities, low pollution levels, piped sewage and piped water reaching all houses, etc.).
Featured Product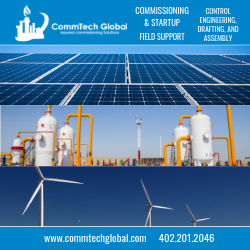 CommTech Global Solutions, LLC, provides professional and reliable commissioning services to customers in all realms of the energy industry. We blend our skills in engineering and technology with innovative business models, offering a complete range of services to assist you for a successful and in compliance operational startup. Consolidation of all our service domains gives our clients a comprehensive set of expertise and far-reaching experience on each project.