The company carries Tonsan's complete line of sealants and potting compounds for solar module assembly.
November 2010 ― Christopher Associates now offers Tonsan's complete line of sealants and potting compounds for solar module assembly. Tonsan is recognized as a global leader in solar module manufacturing technology. Many of the largest manufacturers in the industry already are using the Tonsan's sealants and potting compounds.

As a key supplier of adhesives and sealants for photovoltaic applications, Tonsan has a staff of more than 100 materials scientists and engineers working in a state-of-the-art facility. The company's qualifications include ISO/TS 16949, ISO14001, ISO18001, UL, IEC 61215 and IEC 61730.
Tonsan's 1527 Silicone Sealant was developed specifically for photovoltaic applications, especially module assembly. 1527 exhibits excellent adhesion to back sheet materials including TPT, PVDF and PET. The material performs especially well in heat/humidity testing. The elastic and bonding properties make it ideal for PV module structures where mechanical load caused by wind, snow, hail and rain can cause localized stress. 1527 is a low odor sealant that meets the Ultraviolet Light Exposure Test as required by UL 746C Sections 25 & 57.
Tonsan's silicone potting material is used to pot junction boxes to provide reliable sealing for diodes and connectors. Tonsan 1521 is a two-part, room temperature cure silicone system that provides excellent adhesion to PPO, TPT, brass and tin-plated leads. Tonsan 1521 features excellent aging and heat resistance in tough weather conditions and is ideal for use in automatic dispensing systems.
For more information about Tonsan's sealants and potting compounds, visit www.christopherweb.com.
###
For further information, please contact:
Michael Moreau
Business Development Manager - Solar
Christopher Associates Inc.
3617 W. MacArthur Blvd.
Santa Ana, CA 92704
714-979-7500
www.christopherweb.com
Featured Product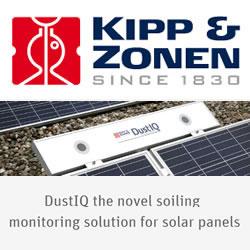 Soiling of the panel glass is one of the major problems in the rapidly expanding solar energy market, with the attendant loss of efficiency and reduction in performance ratios. Now, there's a new, simple and very cost-effective alternative. Based on Kipp & Zonen's unique Optical Soiling Measurement (OSM) technology, DustIQ can be easily added to new or existing solar arrays and integrated into plant management systems. The unit is mounted to the frame of a PV panel and does not need sunlight to operate. It continuously measures the transmission loss through glass caused by soiling, so that the reduction in light reaching the solar cells can be calculated.