A new report by McKinsey concludes that fuel cell electric vehicles are an affordable and effective low-carbon solution for a large proportion of the car fleet, and an essential component of the advanced energy portfolio.
For Immediate Release Press Contact: Jennifer Gangi

Tuesday, November 9, 2010 (202) 785-4222
McKinsey and Company Calls Fuel Cell Electric Vehicles Necessary, Effective
(Washington, DC - November 9, 2010). A new report by McKinsey and Company concludes that fuel cell electric vehicles (FCEVs) are an affordable and effective low-carbon solution for a large proportion of the car fleet, and an essential component of the advanced energy portfolio.
McKinsey evaluated FCEVs, plug-in hybrid electrics (PHEV), and battery electric vehicles (BEVs) and concluded all three technologies, in addition to ICE efficiency improvements, will be necessary to achieve the CO2 reduction targets set by the industrialized nations in 2009.
The study noted that "BEVs are well suited for smaller cars and shorter trips, whereas FCEVs are better for medium to large sized vehicles and longer trips." (p.5) Even in Europe, medium to larger cars that drive long distances account for almost half of all vehicles, and almost 75% of all CO2 emissions, according to McKinsey.
The report calls for investment in FCEVs as a "matter of urgency." (p.13) Action should be taken now because "investment cycles in energy infrastructure are long…and to achieve the economies of scale necessary to meet the…goal, action must be taken as a priority." (p.52) The report calls FCEVs "technologically ready" (p.12) and affordable. The study finds that the total cost of ownership "of all four power-trains are expected to converge after 2025" (p.34), and possibly earlier depending on government incentives.
The report also took into account infrastructure costs, and determined that they are not a barrier for FCEVs. "Over the course of the next decades, costs for a hydrogen distribution and retail infrastructure are . . . comparable to rolling out a charging infrastructure for BEVs and PHEVs. (p.8)
"The attractiveness of the business case for FCEVs is therefore hardly affected by the additional costs required for distribution and retail: if FCEVs make commercial sense - as demonstrated by this study - building a dedicated hydrogen infrastructure can be justified." (p. 8) Hydrogen costs are projected to come down dramatically. (p. 5)
While the study looked at the European vehicle fleet, the results are relevant to the United States. FCEVs could have an even bigger impact in the US where vehicles tend to be much larger, and where drivers take longer trips.
A 31-member public-private coalition sponsored the report, "A portfolio of power-trains for Europe: a fact based analysis." The technical assessment relies on detailed information from 11 multinational auto companies. The full report can be found online at: http://www.europeanclimate.org/documents/Power_trains_for_Europe.pdf
Featured Product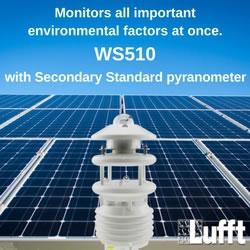 Professional weather sensors form the heart of large solar plants supporting their operation and performance. Lufft was the first manufacturer to combine several sensors in one housing, bringing the largest multiparameter weather sensor family with 19 members into being. Many of them are well-suited for solar site assessment and continuous monitoring. The most commonly used one is the WS600 delivering data on temperature, air pressure, wind, relative humidity and precipitation. Through its open protocol, it can easily be attached to radiation sensors e.g. from Kipp&Zonen. Other models have an integrated Silicon, Second Class or Secondary Standard radiation sensor.