Gloucester, Massachusetts, November 9, 2010 - Comdel, Inc., leading supplier of RF and DC power supplies and process instruments to the semiconductor and photovoltaic industries, announces the CLB Series of power supplies which provide varying output frequency in a superior low frequency design.
The CLB Series of Low Frequency Power Supplies provide 2500 to 12,000 Watts of power at a single frequency in the 20kHz to 2MHz band. The Turbotune™ Technology within the unit allows frequency tuning by automatically varying its output frequency +/-10% around its nominal frequency. The CLB Series of Power Supplies come with a choice of phase lock tuning or software algorithm. The unit provides forward or delivered power mode regulation, and the solid-state design provides precise and repeatable power control, ultra-stable output and low cost of ownership.

The CLB Series is designed to meet the performance demand in RF-driven plasma systems for cell growing, solar photovoltaic and semiconductor processing.
Specifications:
Frequency: Any single frequency from 20kHz to 2MHz, varying +/-10%
Line frequency: 50/60 Hz
Analog power command: 0-10 VDC for 0 to maximum output
Power accuracy: < 2%
Power linearity: < 2% of setting at power levels above 10% of rated power
Power repeatability: +/- 1% of setpoint into a 50-Ohm load
Control I/O connector: Standard: 25-pin subminiature D type (female), Optional: 15-pin subminiature D type (female)
Harmonic distortion: Less than -40 dBc
Reflected power limit: 20% of full scale typical
About Comdel, Inc:
Comdel, headquartered in Gloucester, Massachusetts, designs and manufactures RF and DC power supplies and process instruments for the semiconductor, flat panel, and industrial heating industries. Products include RF generators, auto-match impedance monitors, multi-channel synthesizers and electrostatic chuck power supplies that are in use worldwide by the industry's major equipment and IC fabrication manufacturers. With flexible power delivery solutions, the broadest frequency ranges available, rapid prototyping, product certification and safety compliance, Comdel provides responsive support and product solutions from its offices in the US, Europe and Asia. Comdel is ISO 9001:2000 certified.
For further information contact:
MaryBeth Masterson, Marketing Manager
Comdel, Inc., 11 Kondelin Road, Gloucester, MA 01930.
Phone: 978-282-0620 or 800-468-3144; Fax: 978-282-4980
Email: marybeth_masterson@comdel.com; Web site: www.comdel.com
Featured Product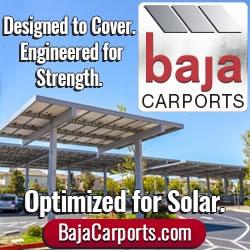 Baja Carports offers an extensive solar support system product line customized to customers' site specifications by in-house engineers, meeting their parking lot coverage, plus optimal PV production needs. Baja's Full Cantilever Tee is often paired with its Semi and Full Cantilever carports to meet live/loads up to 60psf and wind speeds to 160mph. All Baja products are pre-fabricated, bolted connections, pre-galvanized structural steel for fast on-site installation and project aesthetic requirements."