ImagineSolar is offering a new series of workshops for those who want to start or advance their career in PV sales and marketing. Our PV250 series includes five PV Technical Sales workshops (36 Hours) which will help trainees qualify for the NABCEP PV Technical Sales Certification.
ImagineSolar is excited to announce a new course series for those who want to start or advance their career in solar photovoltaic (PV) sales and marketing. The certification training pathway includes five courses (36 contact hours) as listed below. It is targeted to people that are seeking NABCEP PV Technical Sales Certification, entrepreneurs, business and sales professionals, or anyone looking to break into the solar industry or improve their current sales performance.

Don Warfield, Chairperson of NABCEP, states, "As the PV industry matures and grows, jobs that have specialties continue to emerge. The PV Technical Sales Certification is a recognition of this trend and offers an additional meaningful career pathway for renewable energy professionals."
The ImagineSolar PV Technical Sales Certification Pathway accomplishes several tasks: it covers the NABCEP PV Technical Sales Task Analysis and is designed to guide participants through the detailed knowledge they need to pass the NABCEP PV Technical Sales Certification Exam; and, most importantly, it prepares you to be successful in a sales position.
"Our aim is to develop solar business professionals through an interactive, engaging format using role-playing, project exercises, guided discussions, and case studies," says Cathy Redson, Senior Instructor and lead developer of ImagineSolar's PV Technical Sales Certification Pathway. "In addition to drilling down on effective sales techniques to close sales, we provide a forum that fosters creativity and encourages participants to identify innovative solutions that create opportunities for themselves, their businesses, and the solar industry as a whole."
ImagineSolar is bringing the same high level of excellence to the business and marketing side of the solar industry that they have delivered with their PV Installer training - ImagineSolar instructional staff combines over 70 years of cumulative experience in technical sales, marketing and strategic business development.
ImagineSolar starts the PV250 course series in December 2010. Check our workshop page for more details and to sign up.
• PV250: PV System Sales and Marketing (4 hours)
• PV251: PV Technical Sales: Critical First Steps to Maximize Sales Productivity (8 hours)
• PV252: PV Technical Sales: Conceptual Design and Performance Analysis (8 hours)
• PV253: PV Technical Sales: Economics of PV Systems (8 hours)
• PV254: PV Technical Sales: Customer Proposals and Solar Business Best Practices (8 hours)
Featured Product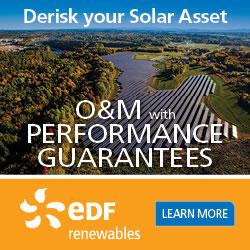 EDF Renewables offers the same innovative solutions that maximize the performance of our own 5.2 GW of installed projects. Because we're not an equipment manufacturer, our recommendations are transparent and data-driven. We cover the entire project lifecycle: from pre-commissioning support, through warranty and post warranty operation, to late stage and decommissioning.