Department of Energy gives written approval to Oak Ridge National Laboratory to assist in research and analysis of HyperLoop technology to reduce geothermal heat pump system costs.
ALTAMONTE SPRINGS, Fla. (November 18, 2010) -- Maytal Tech, in cooperation with Oak Ridge National Laboratory (ORNL) has applied for a SBIR grant offered by the Department of Energy (DOE). The grant funding would support research on innovative loop designs that reduce the costs of loop installations, through new design layouts, system components, materials, and/or methods. This would reduce one of the major costs for geothermal heat pump (GHP) technology -- the high cost of drilling and loop installation. The DOE has repeatedly stated that the high up-front cost of GHP technology is the primary barrier to widespread adoption.

Remo Eyal, President of Maytal Tech said, "This research and collaboration with Oak Ridge National Laboratory will play an extremely important role necessary to proving the feasibility of the HyperLoop technology in ground applications."
ORNL, under the direct supervision of Xiaobing Liu, Ph.D., LEED AP, CGD, will review the design of the HyperLoop ground heat exchanger and analyze the collected data to evaluate its performance. The analysis will also include characteristics of installation and maintenance, comprehensive installed costs, long-term reliability and consumer acceptance of Maytal Tech's HyperLoop technology.
"The research information gained in this phase I project will provide critical information that will be utilized to design an optimized prototype (in a Phase II project) that will significantly reduce loop build and installation time, resulting in a substantial cost reduction of the loop portion of ground source heat pumps," said Harry Gordon, project manager.
About Maytal Tech:
Maytal Tech, LLC was founded in 2008 as a dedicated platform for introducing the revolutionary HyperLoop technology to the geothermal industry. High Yield Poly Exchange Ready Loop (HyperLoop) is a prefabricated heat exchanger made from High Density Polyethylene (HDPE). For more information please visit our website at www.geohyperloop.com or contact Harry Gordon at 407-831-2223.
###
Featured Product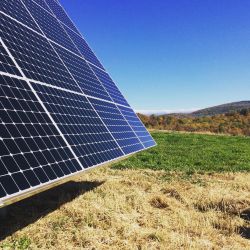 Designed and manufactured in the U.S., the AllEarth Solar Tracker is a complete grid-tied, dual-axis solar electric system that produces up to 45% more electricity than fixed systems. The tracker uses GPS and wireless technology to follow the sun throughout the day for optimal energy production. It has an industry-leading 10 year warranty and 120 mph wind rating, superior snow shedding, and automatic high wind protection. Its simple, durable design and complete system pallet simplifies costly procurement and installation time. Contact us about becoming a dealer partner or purchasing an AllEarth Solar Tracker.