U.S. Department of Commerce, IBM, and Grid Net to Keynote Executive Conference
Parks Associates today announced the executives on the Advisory Board for the upcoming Smart Energy Summit: Engaging the Consumer, Austin, Texas, Jan 24-26, 2010, which will examine the business opportunities and technical challenges as smart grid technologies move into the home.

Smart Energy Summit includes a mix of interactive panels and presentations focused on strategies for manufacturers, utilities, and other service providers to demonstrate to consumers the value proposition of new energy management products, services, and standards. The agenda includes keynote speakers from IBM, Grid Net, and the U.S. Department of Commerce.
The advisory board for Smart Energy Summit provides guidance and recommendations into topics, strategy, and marketing for the event. This year's advisory board includes representatives from the following companies:
Control4
ecobee
eMeter Corporation
Gigle Networks
GreenWave Reality
HomePlug Powerline Alliance
Lantiq North America, Inc., representing HomeGrid Forum
Sigma Designs
Smart Grid News
U.S. Department of Energy
"Smart Energy Summit brings together leaders from government, industry, and tech alliances to present ideas, market strategies, and current deployments of services and solutions for the energy management market," said Bill Ablondi, Director, Home Systems Research, Parks Associates.
"Our Residential Energy Management project finds growing consumer interest in paying for energy-saving solutions, not surprising given many households report over 10% increase in their electric bills in the last 12 months. The industry is working to fulfill this demand, evidenced by recent announcements such as Eragy's Intelligent Home Energy Management software application, the growing list of firms joining Sigma Designs' ecosystem of solutions, and the number of firms such as AlertMe and GreenWave Reality moving into the U.S. following success in Europe and Asia."
Smart Energy Summit analyzes the business strategies in conjunction with the latest consumer data to determine the best opportunities for success. Agenda sessions focus on smart grid deployments in the U.S. and around the world, new players and business models, cloud-based energy management, new services, growth of the ecosystem, and strategies to engage consumers.
The preliminary list of speakers includes representatives from the following companies:
Best Buy
Gigle Networks
GreenWave Reality
HomePlug Powerline Alliance
Oncor Electric Delivery Company LLC
PG&E
Texas Office of Public Utility Counsel
U.S. Department of Energy
Wi-Fi Alliance
Visit www.smartenergysummit2011.com or contact 972-490-1113, sales@parksassociates.com for information.
About Smart Energy Summit
Smart Energy Summit: Engaging the Consumer, hosted by Parks Associates, is the premier conference studying the market for residential energy management and smart grid technologies.
The event features a unique combination of market research, including Parks Associates' landmark Residential Energy Management service, and real-world expertise, with industry experts examining the current status of smart grids in the U.S. and around the world, the opportunities and pitfalls of integrating home systems with smart grids, and the new benefits to consumers from cloud services and in-home control products. http://www.smartenergysummit2011.com
Featured Product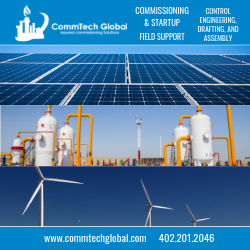 CommTech Global Solutions, LLC, provides professional and reliable commissioning services to customers in all realms of the energy industry. We blend our skills in engineering and technology with innovative business models, offering a complete range of services to assist you for a successful and in compliance operational startup. Consolidation of all our service domains gives our clients a comprehensive set of expertise and far-reaching experience on each project.