Sustainable Energy Closes $2.55 million Flow Through
Calgary, Alberta - November 26, 2010 - STG Markets Limited Partnership ("STG Markets") announced today that it has issued 255 exchangeable limited partnership units ("LP Units") at a price of $10,000 per LP Unit for gross proceeds of $2.55 million. The LP Units are exchangeable for common shares of Sustainable Energy Technologies Ltd ("Sustainable" of the "Company") after December 31, 2010, at an exchange ratio of $0.15 per share. Management purchased 12.5 LP Units for $125,000. The net proceeds of the issue will be used to provide liquidity to meet growing demand for SUNERGY inverters.

About Sustainable Energy: Sustainable Energy (www.sustainableenergy.com) is a Canadian
company which designs and manufactures advanced power electronics enabling solar PV systems to
be installed using an extra low voltage "parallel" system architecture. With" parallel solar" each panel
operates at its optimum power output under all conditions. System output is thereby less prone to
shading losses from normal building obstruction, dirt and debris, or mismatch losses from variances in
orientation of the panels due to building design limitations.
Sustainable Energy's SUNERGY inverter is the only inverter to enable parallel solar in higher power
ratings and with a delivered cost that is competitive with conventional grid connected solar PV
inverters.
Sustainable Energy's technologies are the subject of multiple patents issued by and pending with the
US Patent and Canadian Patent Offices.
Forward Looking Information
The reader is advised that some of the information herein may constitute forward-looking statements
within the meaning assigned by National Instruments 51-102 and other relevant securities legislation.
In particular, it includes: statements concerning the impact of our technology on solar PV system
performance; statements concerning forecast production of SUNERGY inverters and targeted
production capacity and statements concerning the potential for growth in the solar industry. While
management believes these statements to be accurate they are dependent on a wide range of factors
beyond management's control and should not be viewed as a guarantee of the specific outcome.
Forward-looking information is not a guarantee of future performance and involves a number of risks
and uncertainties.
Many factors could cause the Companies' actual results, performance or achievements, or future
events or developments, to differ materially from those expressed or implied by the forward-looking
information. Readers are cautioned not to place undue reliance on forward-looking information, which
speaks only as of the date hereof. The Companies do not undertake any obligation to release publicly
any revisions to forward- looking information contained herein to reflect events or circumstances that
occur after the date hereof or to reflect the occurrence of unanticipated events, except as may be
required under applicable securities laws.
Neither the TSX Venture Exchange nor its Regulation Services Provider (as that term is defined in the
policies of the TSX Venture Exchange) accepts responsibility for the adequacy or accuracy of this
release.
#10427508 v2
For further information please contact:
Contact:
Michael Carten
Sustainable Energy Technologies Ltd.
Chief Executive Officer
(403) 508-7177 #111
Featured Product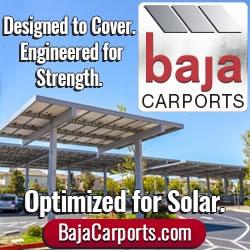 Baja Carports offers an extensive solar support system product line customized to customers' site specifications by in-house engineers, meeting their parking lot coverage, plus optimal PV production needs. Baja's Full Cantilever Tee is often paired with its Semi and Full Cantilever carports to meet live/loads up to 60psf and wind speeds to 160mph. All Baja products are pre-fabricated, bolted connections, pre-galvanized structural steel for fast on-site installation and project aesthetic requirements."