-FIT-Compliant SUNERGYTM Inverter Manufactured in Canada using Canadian technologies - -Inverter To Be Launched at Solar Canada 2010 in Toronto, December 6 - 7, 2010 -
Toronto Ontario - November 3, 2010 - Sustainable Energy Technologies Ltd (TSX V: STG) ("Sustainable Energy") Canada's solar inverter company, today announced an extension of the SUNERGY product line to include a new 5kW 240 Volt inverter. The product is specially designed to be operated outdoors in temperatures as low as minus 400 Celsius to meet the needs of the Ontario solar market.

The SUNERGY-240V is the primary product required for rural projects and micro- FIT applications, with a potential addressable market of over 200 MW in 2011 in Ontario alone.
Production of the SUNERGY - 240V inverters is scheduled to start in January with limited quantities available for key Ontario and US accounts. The Company has been shipping 208V inverters throughout 2010 and has now completed engineering and production scheduling for the SUNERGY-240V product, which scales to meet growing demand throughout the year.
Developed in Canada, the Company's patented inverter technologies are a breakthrough in power inverter design and capabilities for all forms of distributed generation and smart grid applications.
SUNERGYTM inverters continue to gain momentum in tracker, ground mount and rooftop applications. The inverters allow solar arrays to be connected using parallel array architecture, offering high yield, flexibility and safety advantages. Sustainable has the only product in the market today which offers the benefits of parallel at a cost and serviceability factor that is comparable to conventional inverters in the market.
Sustainable Energy will showcase its next generation SUNERGY PV inverters at Solar Canada 2010, booth #904. Solar Canada is Canada's largest solar industry exhibition and conference and is hosted by the Canadian Solar Industry Association December 6-7, 2010 at the Metro Toronto Convention Center.
SUNERGY inverters can be purchased directly from Sustainable Energy Technologies, or through its growing network of distributors in Canada and the USA. Interested parties can contact the North American sales team at 1.647.258.0343
About Sustainable Energy:
Based in Ontario Sustainable Energy (www.sustainableenergy.com) is Canada's solar inverter company. Developed in Canada by Canadians, the Company's patented inverter technologies are a breakthrough in power inverter design and capabilities for all forms of distributed generation and smart grid applications.
The SUNERGYTM inverter is the industry's only grid-interactive solar inverter which enables a "parallel" solar PV system architecture in higher power ratings at a cost and serviceability factor that is comparable to conventional inverters in the market. The benefits of parallel solar are: (i) 5% - 25% higher total system power output; (ii) a better fill factor enabling better coverage of available space; (iii) simplified system design and installation; and (iv) the safety of extra low operating voltages which ensures the safety of building maintenance personnel, first responders, and tradesmen who may accidentally come into contact with system wiring.
Sustainable Energy's technologies are the subject of multiple patents issued by and pending with the Canadian and US Patent Offices.
Forward Looking Information
The reader is advised that some of the information herein may constitute forward-looking statements within the meaning assigned by National Instruments 51-102 and other relevant securities legislation. In particular In particular, it includes: statements concerning product performance and the value of a parallel system architecture and product durability. While management believes these statements to be accurate they are dependent on a wide range of factors beyond management's control and should not be viewed as a guarantee of the specific outcome. Forward-looking information is not a guarantee of future performance and involves a number of risks and uncertainties. Many factors could cause the Company's actual results, performance or achievements, or future events or developments, to differ materially from those expressed or implied by the forward-looking information. Readers are cautioned not to place undue reliance on forward-looking information, which speaks only as of the date hereof. The Company does not undertake any obligation to release publicly any revisions to forward- looking information contained hereinto reflect events or circumstances that occur after the date hereof or to reflect the occurrence of unanticipated events, except as may be required under applicable securities laws.
Neither the TSX Venture Exchange nor its Regulation Services Provider (as that term is defined in the policies of the TSX Venture Exchange) accepts responsibility for the adequacy or accuracy of this release.
For further information please contact:
Contact:
Michael Carten
Sustainable Energy Technologies Ltd.
Chief Executive Officer
+1 (403) 508-7177 #111
Michael.carten@sustainableenergy.com
Featured Product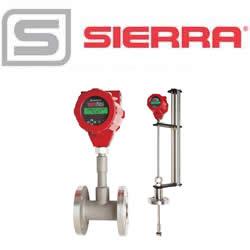 Sierra was the first to introduce a combination volumetric vortex and multivariable mass flow meter in 1997. Today, Sierra's completely redesigned InnovaMass® iSeries™ 240i/241i builds on two decades of success measuring five process variables for gas, liquid and steam with one connection. Now, with the latest hyper-fast microprocessors, robust software applications, field diagnostic and adjustment capability, and a new state-of-the-art flow calibration facility, Sierra's vortex iSeries delivers precision, performance, and application flexibility never before possible.