Next year's HANNOVER MESSE (4 to 8 April 2011) will feature no fewer than three energy-themed flagship trade fairs:
Hannover/December 2010. Next year's HANNOVER MESSE (4 to 8 April 2011) will feature no fewer than three energy-themed flagship trade fairs: Energy, the world's largest energy technology trade fair, Power Plant Technology, and Wind. This winning energy trio will be complemented by the MobiliTec electric mobility fair. Sited in Hall 25 - at the crossroads between the energy-themed fairs and the Motion, Drive & Automation (MDA) fair - MobiliTec is dedicated to hybrid and electric powertrain technologies, mobile energy storage and alternative mobility solutions.

Together, these four world-class trade fairs span the entire energy value chain, from generation, transmission and distribution through to transformer technology, energy storage and consumption.
"Our mix of energy-themed fairs is without parallel anywhere in the world. Our exhibition program gives equal weight to both conventional and renewable energy generation. It thus provides a perfect platform for the energy industry to address the current debate on energy supply security and sustainability," said Oliver Frese, Deutsche Messe's Senior Vice-President in charge of HANNOVER MESSE.
Located in Hall 27, the Wind fair is a pivotal tradeshow for wind generation technology, components and services. In 2011, it will once again be a powerful catalyst for new growth in the energy halls at HANNOVER MESSE ¬- especially as all the leading wind turbine manufacturers have already registered. Allied with the Wind show in Hall 27 will be the Renewables display area, which covers all non-wind forms of renewable energy. The Renewables program ranges from bioenergy and photovoltaic energy to solar thermal and geothermal energy.
Hall 27's array of energy production technologies is complemented by Power Plant Technology, the leading trade fair for power plant design, systems, operation and maintenance. There, exhibitors will showcase the latest technologies and strategies for increasing power plant efficiency and reducing CO2 emissions.
Next year, MobiliTec will be in its second season. The leading trade fair for hybrid and electric powertrain technologies, mobile energy storage and alternative mobility solutions is HANNOVER MESSE's central hub for cross-industry dialogue on electric mobility. It is the perfect setting for discussion on the latest technological developments in sustainable mobility.
As always, the energy-themed trade fair will be complemented by an array of group pavilions and forums.
E-Energy - smart grids - major investment needed
The world's steadily growing hunger for energy, the growing role of renewables as part of the energy mix, and the fact that many existing power grids are extremely outmoded all add up to an urgent need for comprehensive modernization of existing energy infrastructure using intelligent, IT-based solutions. For instance, it is estimated that Europe will need to invest about a billion euros in its energy infrastructure. That's according to the Energy Strategy 2020 document released by the EU Commission in November 2010.
The E-EnergyCenter pavilion will feature displays by all the model regions selected by Germany's Ministry of Economics as part of its E-Energy initiative. There will also be displays by providers of energy-sector hardware and software solutions. One of the big themes at the Center will be smart grids - fully integrated systems that intelligently manage electricity generation, distribution and storage as well as load balancing. Other keynote themes include smart metering and remote metering. These are integral to smart grids because they give consumers the detailed information they need to manage their consumption and hence play a more active role in the electricity market. All of these technologies are covered in-depth at the E-EnergyCenter, as are smart buildings and energy-sector information and communication technology. The Center has Germany's Federal Minister of Economics and Technology, Rainer Brüderle, as its official patron.
Hydrogen + Fuel Cells group presentation
Right next-door to the Wind show in hall 27 visitors will find Europe's biggest group pavilion for hydrogen and fuel cells. There, large international corporations as well as research institutes and small and medium-sized enterprises will be profiling products and innovations from the following areas: hydrogen production, fuel cell components; stationary, portable and mobile fuel cells; fuel cell applications; fuel cell test systems; and hydrogen transport and storage technology and infrastructure.
Cogeneration and energy contracting
Having enjoyed sustained success since its launch two years ago, the Energy Contracting and Cogeneration pavilion will be back at HANNOVER MESSE 2011 with an expanded line-up. The participating companies' exhibits, which will have a special focus on distributed energy supply schemes, are targeted at trade visitors from industry, local government and energy utilities. The pavilion is organized by the German Electrical and Electronic Manufacturers' Association (ZVEI) in association with the German Cogeneration Association (B.KWK).
About HANNOVER MESSE (the Hannover Fair)
The world's leading showcase for industrial technology is staged annually in Hannover, Germany. The next HANNOVER MESSE will be held from 4 to 8 April 2011, with France to be featured as its official Partner Country. 13 flagship fairs are taking place under the umbrella of HANNOVER MESSE 2011: Industrial Automation • Energy • Power Plant Technology • Wind • MobiliTec • Motion, Drive & Automation • Digital Factory • Industrial Supply • CoilTechnica • MicroNanoTec • Research & Technology • SurfaceTechnology • ComVac
In 2011 the spotlight will be on industrial automa¬tion, energy technology, power transmission, industrial subcontracting and services as well as cutting-edge technologies.
Featured Product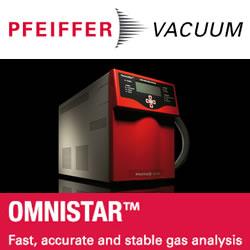 The Pfeiffer Vacuum OmniStar benchtop analysis system offers you a compact footprint, powerful software and Ethernet connectivity. It's the optimum solution for many real-time gas analysis applications. With the OmniStar, Pfeiffer Vacuum offers you a complete solution for gas analysis, in chemical processes, semiconductor industry, metallurgy, fermentation, catalysis, laser technology and environmental analysis. The turnkey OmniStar gas analysis system consists of heated, temperature-regulated gas inlet system, Quadrupole mass spectrometer, a dry diaphragm vacuum pump and HiPace turbopump. Unlike competing methods such as FTIR, OmniStar is suitable for qualitative and quantitative analysis of most gases.