Initial orders are being accepted for the new industry-leading 1000VDC 400 Amp family of integrated disconnect combiners.
SAN JOSE, CA ― December 2010 - Bentek Solar, a leader in the design and manufacture of optimized Configure-To-Order solar combiners, re-combiners and solar safety systems, announces that the company is now accepting initial orders for the new industry-leading 1000VDC 400 Amp family of integrated disconnect combiners.

"We are pleased to receive positive market acceptance of our newest full 1000VDC 400 combiner models. Clearly, there is a need in the marketplace for combiners that can meet the increasing power requirements of today's new solar projects," said Mitch Schoch, President and CEO of Bentek Solar.
"The large industrial and utility solar systems in North America and Canada are shifting from 600 to 1000VDC systems. Bentek Solar has a full range of solar products from fused combiners and re-combiners to circuit breaker re-combiners and solar safety systems that are designed and manufactured specifically for the 1000VDC industrial and utility marketplace," added John H. Buckley, Sales and Marketing for Bentek Solar.
Disconnect combiners with integrated 1000VDC load-break disconnects reduce costs by eliminating installation, time and wiring. The combiners feature a flexible design for customization and ease of installation as well as an enhanced level of user safety.
For more information about Bentek Solar's 1000VDC products and specific 1000VDC 100A, 200A and 400A Integrated Disconnect Combiners, visit www.BentekSolar.com.
###
About Bentek Solar
Founded in 1985, Bentek is a leader in manufacturing and engineering solutions for complex electro-mechanical and power distribution systems for the semiconductor and solar industries. Bentek has applied these extensive capabilities and knowledge into a comprehensive family of standard and configure-to-order (CTO) solar combiner products. These solar combiners provide quality, ease of installation and safety to the solar industry. For more information, contact Bentek Solar at 866-505-0303, e-mail JohnB@bentek.com or visit www.BentekSolar.com.
Featured Product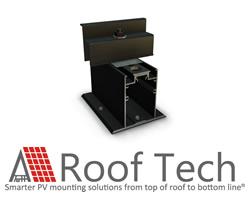 The most compact versatile rail-less PV mounting system under the sun. Instead of placing solar panels on top of long rails, simply attach E Mount AIR to rafters or the roof decking. Once panels are fastened to the roof, the system array is electrically bonded. The result is a visually seamless PV installation that stands the test of time. - Truly "One With The Roof". - PE stamped cert. letters available, UL 2703 Classified, ASTM 2140 fully waterproof. The one and only with integrated flexible flashing certified by the ICC! All the best quality. Only from Roof Tech