Energy Roofing Systems recently announced plans to develop the first commercial solar PV system in North Georgia. The 20kW project was made possible through federal and state clean energy tax credits that cover 65% of the cost. The company also has plans to help many local businesses qualify.
CUMMING, GA (December 21, 2010) - Energy Roofing Systems announced today that they will be developing a 20kW solar installation for an automotive warehouse located in Dawsonville, GA. The solar panel array will not only save JRF Energy, LLC money on electric bills and reduce their carbon footprint, but also will produce extra power and serve as an added source of revenue for the business. Local utility providers Georgia Power, Sawnee EMC, and Amicalola EMC all confirmed that this is the first commercial solar project in Dawsonville. The 20kW project will make the most of Georgia's optimally tilted surface, which receives more sunlight on average than the entire state of California. The project will generate approximately 32,494 kWh in its first year, which is equivalent to offsetting 38,023 lbs. of CO2, planting 663 trees, or offsetting 888 gallons of gasoline.

Energy Roofing Systems specializes in applying advanced alternative energy systems with the highest quality cool metal roof technology and installing them in the most cost effective manner. Designed to reduce utility bills, their cool metal roofing serves as the perfect foundation for solar. Unlike traditional shingle roofing which needs to be replaced periodically over time, cool metal roofing is designed for long term durability and will outlast solar technology. This translates to extra money saved. One recent study indicated that it can cost as much as 25% of the original cost to de-install and then reinstall solar panels when replacing a shingle roof. Energy Roofing Systems was founded by a former custom homebuilder with over 30 years of experience in the metro Atlanta area and an alternative energy entrepreneur from New England. They are taking a forward thinking and sustainable approach, encouraging both commercial and residential customers to "Rethink Your Roof."
Alpharetta, GA based Solar Energy USA was chosen to install this particular project due to their friendly and knowledgeable staff as well as their proximity to the North Georgia area. Their installation team, a staff of technical experts, is lead by one of the most respected names in the photovoltaic industry with 10 crew members being NABCEP (North American Board of Certified Energy Practitioners) certified. The company has established itself as a premier provider of "Affordable Solar Solutions" for anyone interested in promoting renewable energy.
Energy Roofing Systems educated JRF Energy, LLC about federal, state, and local tax incentives that helped make this project possible. The Federal Clean Energy Grant is covering 30% of the total system cost while the Georgia Clean Energy Tax Credit picks up another 35%. Additionally, local utility provider Sawnee EMC is providing a $3,000 dollar incentive and a guarantee to purchase any excess energy this system generates.
Over it's expected 35-year life the 20kW system will generate approximately 1015 RECs (Renewable Energy Certificates) equivalent to offsetting 868 tons of CO2, planting 20,712 trees, or offsetting 27,740 gallons of gasoline. JRF Energy, LLC will see utility savings on average of $614 dollars every month.
The Federal Clean Energy Grant (also known as the 1603 Treasury Grant Program) was extended last week as part of the tax legislation passed by the U.S. Congress. As a result, Energy Roofing Systems has plans to help many local businesses qualify for the grant in 2011 by adopting solar PV and solar hot water systems.
Featured Product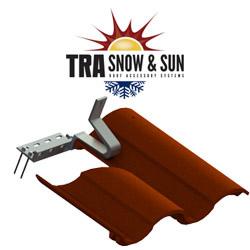 You haven't installed a tile mount that is easier to install than the Solar Tile Mount manufactured by TRA Snow and Sun. Solar Tile Mount is used on all tile roof profiles: flat, mid, and high. It is made in the USA of aluminum alloy for strength and excellent corrosion resistance. Solar Tile Mount is built to allow more ease in installation with more rise from the tile surface to the rail for better air flow below panels. The adjustable base is longer than most allowing attachment 6" to the left or right to have the bracket in the base of the pan of the tile and still fasten to the rafter. Solar Tile Mount is adjustable for counter batten systems from ¾" to 3". The horizontal rail is directly above base fasteners giving greater uplift resistance than any other system. For superior waterproofing apply TRA Snow and Sun's butyl backed VersaFlash aluminum flashing. No tile flashing is needed on top of the tile for greater labor and material cost savings.