The American Institute of Renewable Energy (AIRE) celebrates the comments of both Vice President Biden and Nancy Sutley because AIRE also realizes the necessity of weatherizing homes to be more energy efficient.
Vice President Biden announced at a Middle Class Task Force event that homeowners would benefit from a series of federal actions designed to help them maintain a strong, self-sustaining home energy efficiency retrofit industry. With the help of the federal government, homeowners will be provided with the knowledge and resources to keep their homes energy efficient. The Vice President was accompanied by Nancy Sutley, Chair of the White House Council on Environmental Quality (CEQ); Steven Chu, Secretary of Energy (DOE); Hilda Solis, Secretary of Labor (DOL); and Shaun Donovan, Secretary of Housing and Urban Development (HUD). After an 18-month-long inter-agency effort, the federal government announced initiatives that are not only environmentally friendly, but also cost-effective, helping families save during a time of historic economic downturn.

Vice President Biden stated,"The initiatives announced today are putting the Recovery Through Retrofit report's recommendations into action- giving American families the tools they need to invest in home energy upgrades. Together, these programs will grow the home retrofit industry and help middle class families save money and energy."
The Office of the Vice President along with 11 departments and agencies and six White House offices identified key barriers that prevented a strong nationwide market for home energy upgrades. Initiatives were made in order to break these barriers and better inform the public of what they could do in order to have more energy efficient homes while simultaneously saying money.
The initiatives announced at the Middle Class Task Force include the following:
•The Home Energy Score program: This program will help homeowners make cost-effective decisions about home energy improvements.
•The FHA PowerSaver loan program: This program will enable homeowners to make energy saving improvements to their homes through affordable federally-insured loans from private lenders.
•New Workforce Guidelines for Home Energy Upgrades: The Guidelines will help identify the knowledge, skills, and abilities necessary for workers in the home energy retrofit industry.
•Healthy Indoor Environmental Protocols: The Protocol is a companion document to the Workforce Guidelines and will recommend standards necessary to maintain and improve indoor air quality and resident health when performing residential energy retrofits.
•Small Business Administration Green Business Opportunities Course: This online course provides free business counseling and information for those seeking to launch a new business or expand an existing business in the energy efficiency market.
Nancy Sutley said, "Improving home energy efficiency in the US is a common sense way to grow jobs here at home while saving American families money on their electricity bills and reducing harmful air pollution. There actions will support the growth of a strong home energy retrofit market in yet another demonstration of how a healthy economy and a healthy environment go hand in hand."
The American Institute of Renewable Energy (AIRE) celebrates the comments of both Vice President Biden and Nancy Sutley because AIRE also realizes the necessity of weatherizing homes to be more energy efficient. AIRE is a weatherization training institute and a leader in the renewable energy effort. AIRE also offers certificated on-site weatherization training. Attending AIRE is the first step in becoming an energy auditor and taking advantage of the federal government's initiatives.
Featured Product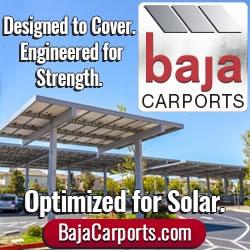 Baja Carports offers an extensive solar support system product line customized to customers' site specifications by in-house engineers, meeting their parking lot coverage, plus optimal PV production needs. Baja's Full Cantilever Tee is often paired with its Semi and Full Cantilever carports to meet live/loads up to 60psf and wind speeds to 160mph. All Baja products are pre-fabricated, bolted connections, pre-galvanized structural steel for fast on-site installation and project aesthetic requirements."