Numerous industry and government leaders spoke at the opening ceremony, which was held on Friday, December 17, 2010. The factory represents more than US$125 million in investment.
SUZHOU, CHINA ― January 2011 ― Christopher Associates announces that Tonsan, Asia's leading manufacturer of photovoltaic sealants and potting compounds, recently held an opening ceremony attended by more than 500 of Asia's top manufacturers, suppliers, and other industry leaders at its new, dedicated photovoltaic sealants factory in China's Suzhou County.

Numerous industry and government leaders, including Zhao Yu Wen, Chairman of the Chinese Renewable Energy Society, and Guang Chun Zhang, Senior Vice President of Suntech, the world's largest solar energy manufacturer, spoke at the opening ceremony, which was held on Friday, December 17, 2010.
Later that day, Tonsan hosted a technical conference at the Dyna Sun Hotel where speakers from TüV, DuPont, Huber + Suhner and other industry leaders delivered a range of papers discussing issues facing the photovoltaic manufacturing community.
With more than 1,000,000 sq ft of manufacturing plant and laboratories, the new factory features state-of-the-art equipment, research tools and other related technology. A full-scale applications laboratory and long-term reliability test center allow Tonsan to conduct leading-edge research into photovoltaic and related materials applications.
Locating additional capacity and R&D assets in Suzhou allows Tonsan, the world's largest manufacturer of sealants and related materials for solar applications, to better serve both local and overseas customers while meeting demand for present and future growth of the industry.
For further information contact:
Michael Moreau, Director of Business Development
Christopher Associates Inc.
3617 W. MacArthur Blvd.
Santa Ana, CA 92704
714-979-7500
E-mail: mike@christopherweb.com
Featured Product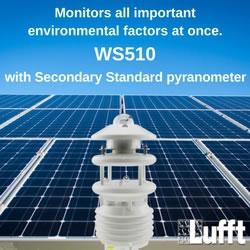 First and only Smart Weather Sensor with integrated Kipp & Zonen CMP10 Pyranometer (secondary standard). From the WS product family of professional intelligent measurement transducers with digital interface for environmental applications. Integrated design with ventilated radiation protection for measuring: Air temperature, relative humidity, air pressure, wind direction, wind speed and radiation. One external temperature or rain sensor is connectable.