New Roots Energy will be releasing an updated version of it's popular Wind Report on February 1st, including aesthetic upgrades and an even more user friendly layout.
New Roots Energy (www.newrootsenergy.com) is getting ready to release an updated version of its acclaimed WIND REPORT ($99 for a two-month subscription), an online program that models turbines to determine the financial viability of wind systems. Users input their address, select a turbine, and choose a tower height, and Wind Report automatically generates the average annual wind speed and predicts energy output (kWh). With an estimated energy production, a custom Financial Analysis can be made with a few more inputs. Available state and federal wind power incentives are automatically incorporated in the financial analysis of Wind Report as it delivers Net Present Value, Internal Rate of Return, Lifetime Cost of Energy, and Payback Period as the financial metrics. A cost/benefit graph and cash-flow tables are provided and take into account depreciation, taxes, and energy savings. For systems that are financed, the program calculates tax savings on interest payments. Wind-curious individuals and companies have used this software to quickly compare various wind turbines and financing options before purchasing equipment.

Updates are expected to be out on February 1st, and include a new, pleasing look, explanations of the inputs and outputs, and a more user-friendly feel.
Featured Product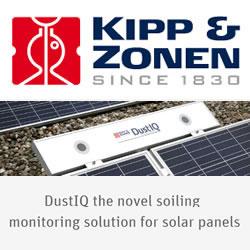 Soiling of the panel glass is one of the major problems in the rapidly expanding solar energy market, with the attendant loss of efficiency and reduction in performance ratios. Now, there's a new, simple and very cost-effective alternative. Based on Kipp & Zonen's unique Optical Soiling Measurement (OSM) technology, DustIQ can be easily added to new or existing solar arrays and integrated into plant management systems. The unit is mounted to the frame of a PV panel and does not need sunlight to operate. It continuously measures the transmission loss through glass caused by soiling, so that the reduction in light reaching the solar cells can be calculated.