A loop of SkyTrough concentrating solar collectors, commissioned at SEGS II in January 2010, continues to operate with the high efficiency forecast by NREL tests. This finding was confirmed by independent engineers, Sargent & Lundy.
Arvada, Colorado - January 25, 2011: A loop of SkyTrough® parabolic trough concentrating solar collectors, commissioned at Solar Energy Generating Station (SEGS) II in Daggett, California on January 1, 2010, continues to operate with the high efficiency forecast by National Renewable Energy Lab (NREL) tests. Engineering firm Sargent & Lundy used over 100,000 data points to compare actual SkyTrough® performance to that indicated by NREL's tests, concluding that "the thermal output of SkyTrough® solar collector assemblies (SCAs) can be expected to achieve the predicted levels."

Sargent & Lundy visited the site, reviewed the test methodology, daily performance data, instrumentation, and engineering drawings. The average measured thermal output for the 24 days of data collection was 978 kW - 2% more than predicted by the model. In their report, Sargent & Lundy stated "overall, it is [our] opinion that the SkyTrough® performance is… equal to or greater than the state-of-the-art parabolic troughs being deployed..."
A white paper on thermal performance measurement is available for download - http://www.skyfuel.com/downloads/brochure/SkyTrough_ThermalPerformance.pdf.
After a year of regular non-contact cleaning and constant exposure to the harsh desert environment, the specular reflectance of the ReflecTech® mirror surface was measured to have the same value it started with - 94%. "The ReflecTech® performed just as expected," said David White, SkyFuel's Chief Engineering Officer. "The monolithic mirror panels were simple to install and are more accurate than glass mirror facets".
Independent verification of the performance of SkyFuel's first commercial installation, together with a year of continuous and successful operation, demonstrate that the SkyTrough is ready for large-scale commercial deployment.
###
Utility scale parabolic trough solar concentrators harness the sun's energy to make steam for electricity generation. Patterned after the best of previous, time proven designs, the SkyTrough® is a breakthrough in cost and constructability resulting from significant design and material innovations. The SkyTrough® is the first utility scale solar concentrator to employ lightweight ReflecTech® Mirror Film, developed collaboratively by SkyFuel and NREL, in place of the fragile glass mirrors traditionally used. SkyFuel's wholly owned subsidiary, ReflecTech, Inc., holds the exclusive license to manufacture and market ReflecTech® Mirror Film. SkyFuel is also developing next-generation, high-temperature parabolic trough and linear Fresnel systems.
Featured Product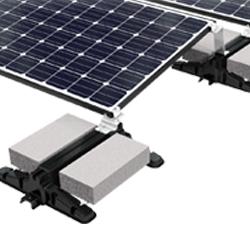 The Power Rail™ Commercial Mounting System is designed with the professional PV solar installer in mind. Both the XD/UD and LD/MD rails feature single tool assembly with the revolutionary patented RAD™ Lock-in-Place bolt for fast and secure module clamping. The high strength marine-grade aluminum rails include an integral wiring channel for securing cables and providing a professional finish.