Helen Hunt and Ed Begley, Jr. to Join Kick Off Event at Participating School for First-of-its-Kind Solar Partnership
OAKLAND, Calif. - Jan. 25, 2011 - Sungevity, the nation's fastest growing provider of residential solar installations, today announced the launch of Sungevity.org as an innovative way to help schools and non-profit organizations raise money while getting more homeowners to put solar on their rooftops.

Organizations can raise $1000 by bringing Sungevity new solar customers. For every customer that a participating non-profit or school sends Sungevity's way, the company donates $500 to the school or non-profit and gives the customer a $500 American Express gift card (or the organization can opt to collect the full $1000).
"Our online solar leasing system is designed to make it simple for homeowners to go solar," said Danny Kennedy, Sungevity Founder. "Like our dot.com site, the .org program now makes it easy for non-profits and schools to raise funds while getting their local communities to go solar. We are continuing to bring sunshine online with Sungevity's innovative, first-of-its-kind partnership that goes well beyond the bake sale."
To kick off Sungevity.org, the company is starting a partnership with the Westside Waldorf School in Pacific Palisades (Los Angeles) where Helen Hunt and Ed Begley, Jr. are hosting an event tonight at the school. Ms. Hunt is a Sungevity customer herself, having recently had a 7kW system installed on her home that is estimated to save her more than $200 per month on her electric bill.
Non-profits and schools can enroll in the Sungevity.org partnership through an easy online process that can be completed in minutes. In addition to the Westside Waldorf School and The Oaks School also in LA, non-profits engaging in the fundraising program include Rainforest Action Network, Green America, Clean Water Action and the Ella Baker Center for Human Rights. The money raised is typically used for general funds (e.g, supplies, etc.) that are sometimes hard to come by for budget-constrained schools and non-profits that usually rely on only one fundraiser per year.
About Sungevity.org:
Sungevity.org engages with communities around the world to uphold the mission and values of Sungevity. Simply put, our mission is to spread Solar For Universal Need and, at Sungevity.org, we do that by developing special projects and by helping non-profits and schools raise funds while getting their communities to go solar.
About Sungevity:
Sungevity has designed a unique online sales process to make it easy and affordable for homeowners to go solar. Sungevity's Solar Lease offer gives most customers savings from the start. For many the electricity bill savings start immediately and increase over time. Sungevity has an easy online "iQuote" process, which enables Sungevity to use satellite images and aerial photography to assess customers' roofs remotely and accurately determine the homes' solar potential. This allows the company to furnish thousands of customers with a firm proposal to use solar power with no capital cost within 24 hours.
Follow Sungevity On-line:
Blog: http://blog.sungevity.com/
Twitter: http://twitter.com/sungevity
Facebook: http://www.facebook.com/sungevity
###
Media Contacts:
Mark Sokolove, Tigercomm, 703.302.8382, mark@tigercomm.us
Ben Delman, Tigercomm, 703.302.8389, bdelman@tigercomm.us
Featured Product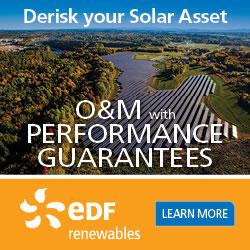 EDF Renewables offers the same innovative solutions that maximize the performance of our own 5.2 GW of installed projects. Because we're not an equipment manufacturer, our recommendations are transparent and data-driven. We cover the entire project lifecycle: from pre-commissioning support, through warranty and post warranty operation, to late stage and decommissioning.