What will the next twelve months hold for the thin film industry? Experts have been giving their thoughts on where the market gains will be found in an industry that has a distinctly brighter outlook than it saw in 2010.
Thin film is now pushing out in many directions, with India and the Asian markets now generating a lot of interest. Cristian Cavazzuti, General Manager of Pramac Swiss observed that "low cost, low quality" thin film manufacturers are likely to find success in "large installations in India". Abe Tarapani, Vice President of the renewable energy company Astonfield Renewables agreed: "India in particular looks to take off in 2011 where grid-connected projects of 5-25MW seem to be adopting thin film technology at an above average rate relative to European markets."

However, the industry remains Eurocentric. "Europe will still be key in 2011,"commented Fumihiro Tanikawa, Technical Manager at Kaneka Belgium. "The German market will still be the most important because it is the lowest BoS cost market, and since thin film technology has relatively low efficiency, manufacturers rely on a low BoS cost to be competitive." With Germany still considered the thin film capital of the world, holding the largest share, it is anticipated that this market will hold its value for 2011. After a year of consolidation and uncertainty, the challenge now facing the thin film industry is to gain a greater understanding of emerging and expanding markets, and calculate where the biggest returns will be found.
The potential for thin film market success will be addressed at the 3rd Thin Film Solar Summit Europe (March 3-4, Berlin), looking in detail at the geographic opportunities for the industry, the future of grid parity and commoditisation, and innovations in applications such as the budding BIPV market. The critical issues of competitiveness and bankability will also be analysed, featuring a diverse range of over thirty speakers.
To read the extended interviews from the experts above, all of which are presenting at the conference, as well as access further materials, visit: http://www.thinfilmtoday.com/europe/.
Featured Product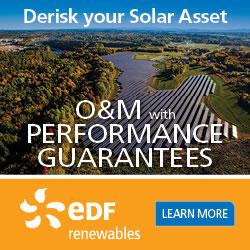 EDF Renewables offers the same innovative solutions that maximize the performance of our own 5.2 GW of installed projects. Because we're not an equipment manufacturer, our recommendations are transparent and data-driven. We cover the entire project lifecycle: from pre-commissioning support, through warranty and post warranty operation, to late stage and decommissioning.