According to the Concentrated Photovoltaics Industry Report, CPV installations in the USA will grow from 1.5 MW to 75MW in the next five years.
If installation patterns in the PV industry are anything to go by, this will represent just 8% of total CPV installations by 2015.

Findings from the Concentrated Photovoltaics Industry Report show that the CPV industry has emerged stronger in recent years. Both new projects and the entry of more players into the CPV market indicate a renewed interest in this cutting edge technology.
The most ambitious project of all is to be sited in Taiwan, where Guascor Foton and Ya-Fei Green Energy are set to install a 100% CPV powered 59 MW plant. Were this project to materialize, it will become the largest solar PV installation worldwide, setting a milestone for the potential of CPV as a large scale power generation technology. Elsewhere, Solfocus will add another project to its portfolio by beginning construction on a new 8.5 MW in Portugal and Compsolar has announced that it will complete a 5 MW project in China.
The number of CPV module manufacturers continues to grow. Many of these new entrants are exploring new approaches to CPV such as rooftop installations and innovative optics that reduce the need for precise tracking systems in CPV. Both these innovations promise to improve the standing of CPV by reducing costs and opening up the commercial and residential rooftop market segments for CPV. Another indicator of renewed enthusiasm for this sector is the entry of new cell manufacturers, amongst which feature new start-ups such as Cyrium, Quantasol and Solar Junction as well as established semiconductor companies such as RFMD and JDSU.
How's this changing landscape affecting your CPV strategies? Find out the latest information on CPV costs, current projects and industry analysis on the Concentrated Photovoltaics Industry Report.
Contact:
Carlos Márquez
Head of Research
CPV Today
carlos@cpvtoday.com
+44(0) 20 7375 7543
US toll free 1800 814 3459 ext.301
Featured Product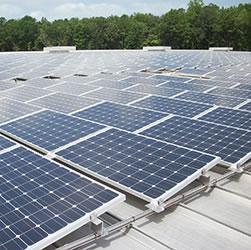 The Power Railâ"¢ Commercial Mounting System is designed with the professional PV solar installer in mind. Both the XD/UD and LD/MD rails feature single tool assembly with the revolutionary patented RADâ"¢ Lock-in-Place bolt for fast and secure module clamping. The high strength marine-grade aluminum rails include an integral wiring channel for securing cables and providing a professional finish.