Clean Technology Provider Solution Company Telkonet Releases Its New Energy Efficiency Suite, EcoSmart, With A Fresh Look And New Website
February 7, 2011: Milwaukee, WI - Telkonet, Inc (OTCQB: TKOI), a leader in occupancy-based energy management technology, has just announced the introduction of its next generation line of energy management products, the EcoSmart Product Suite. With the EcoSmart flagship product, the EcoInsight Programmable Controllable Thermostat (PCT), Telkonet has evolved beyond it's successful SmartEnergy product line and built upon its patented Recovery Time™ Technology. The EcoSmart suite of products introduces several revolutionary new developments including a fully wireless thermostat, EcoWave and a plug load controller branded the EcoGuard.

The EcoSmart Product Suite was designed from the ground up leveraging Telkonet's extensive history and expertise in the energy efficiency industry. The development process included extensive input from customers, maintenance engineers, and ESCOs to ensure that the product would meet both technical and cost requirements. Some of the key enhancements called for by customers and offered in the EcoInsight product include: multiple backlight color options, integrated PIR motion sensor, ultra-wide operational voltage range from 12-40VDC and 12-277VAC without reconfiguration, variable outputs for VAV/proportional control, current transducer inputs, and both Zigbee and Ethernet network options. Offering compatibility with virtually any type of HVAC system, EcoSmart is also able to provide a comprehensive energy management solution for any environment. Customers also challenged Telkonet to provide networked systems providing the same aggressive return on investment (ROI) found previously on non-networked solutions. Through a complete integration of the thermostat and the IEEE 802.15.4 Zigbee radio and providing average savings of 30% and more, the EcoSmart products are up to the challenge.
As more and more big businesses are focused on cutting their carbon footprint and reducing energy consumption, a comprehensive strategy towards energy efficiency is needed. A key differentiator for Telkonet's EcoSmart platform is its network management and integration capabilities. Use of Zigbee standards for energy management and connectivity is a central component of the EcoSmart Product Suite. EcoCentral is a cloud-based web platform for management, analytics and reporting providing a comprehensive building automation tool found today only in much larger, more expensive building management systems. In addition, EcoSmart is able to build upon standard communications such as BACNet and integrate directly with existing Direct Digital Control (DDC) or building management systems (BMS) to provide more granular control over a facility's heating, ventilation and air conditioning (HVAC) resources. These features provide greater control over existing energy management systems and maximize the savings recognized.
Another key improvement of the EcoSmart Suite is the addition of a remote thermostat package, EcoWave. Historically, in-room or in-building placement of the thermostat was dictated by the location of the HVAC wiring or equipment. EcoWave provides the solution for this issue with the EcoSource control unit for HVAC connectivity and the EcoAir user interface for placement virtually anywhere in the room, communicating with the EcoSource wirelessly. This solution provides customers the ability to configure their environments as they wish without regard to location of existing HVAC equipment.
One of EcoSmart's most innovative differentiators is its Intelligent Scheduling. Functioning as artificial intelligence and control over energy consumption, Intelligent Scheduling will monitor an environment for a predetermined time period to recognize occupancy and temperature patterns and adjust the operation of the HVAC system accordingly. This revolutionary new feature allows Telkonet to maximize the comfort of the end-user while maximizing the efficiency of the building.
With more and more building owners and operators developing comprehensive plans for net-zero buildings and GREEN development, customers are increasingly requesting customized features and abilities. EcoSmart's built in functions allow property owners to define their own custom events and services to be included directly into the EcoSmart Suite. Offering users personal services and enhanced environmental controls demonstrates Telkonet's customer's commitment to the environment and to guest comfort.
"We're very excited with the release of our EcoSmart Product Suite. We've worked extensively with our customers and partners to identify their greatest needs and design a solution catered to fit those needs. This new product line, in conjunction with our expansive EcoCentral web platform, is a revolutionary step for our customers. The release of EcoSmart demonstrates Telkonet's continued expertise and leadership in the energy efficiency space and we look forward to expanding the platform in the coming months," said Jeff Sobieski, Telkonet's COO.
With continued energy consumption growth and corporate and government initiatives for net-zero energy commercial buildings, energy efficiency and energy management have emerged as major initiatives in the strategy to achieve these goals. As a leader in energy management, Telkonet is dedicated to developing technologies and services that reduce energy consumption, conserve the environment and maximize savings for its customers. The EcoSmart Product Suite is an evolutionary advancement in these initiatives and the next step in Telkonet's SmartGrid development.
With the February 7th, 2011 release, the EcoSmart Product Suite is commercially available for purchase and deployment. In conjunction with the release, the EcoSmart Partner Program is being launched. Companies interested in joining Telkonet's EcoSmart distribution channel and taking advantage of training, discounts and other channel tools may contact Telkonet Sales for more information at sales@telkonet.com or by calling 866.375.6276.
About Telkonet
Telkonet is a leading energy management technology provider offering hardware, software and services to Commercial customers throughout the world. The EcoCentral Platform, in conjunction with the EcoSmart Product Suite, provides comprehensive savings, management and analytics of a building's energy consumption. Telkonet's energy management products are installed in properties within the Hospitality, Military, Educational, Healthcare and Residential markets reducing energy consumption and eliminating the need for new energy generation. www.telkonet.com
*Statements included in this release may constitute forward-looking statements within the meaning of the Private Securities Litigation Reform Act of 1995. Such statements involve a number of risks and uncertainties such as competitive factors, technological development, market demand and the Company's ability to obtain new contracts and accurately estimate net revenue due to variability in size, scope and duration of projects, and internal issues in the sponsoring client. Further information on potential factors that could affect the Company's financial results, can be found in the Company's Registration Statement and in its Reports on Forms 8-K filed with the Securities and Exchange Commission (SEC).
Telkonet, Inc
10200 Innovation Dr, STE 300
Milwaukee, WI 53226
Featured Product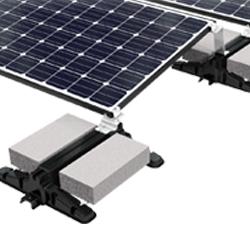 The Power Rail™ Commercial Mounting System is designed with the professional PV solar installer in mind. Both the XD/UD and LD/MD rails feature single tool assembly with the revolutionary patented RAD™ Lock-in-Place bolt for fast and secure module clamping. The high strength marine-grade aluminum rails include an integral wiring channel for securing cables and providing a professional finish.