New Executive Brings Decades of Lighting Industry Experience to LED Leader
Portland, ME - February 8, 2011 - Eco-story, a leader in LED lighting solutions, today announced that it has hired Jim Simunaci to serve as Vice President of Sales. Beginning this month, Jim is charged with channel partner strategies and developing relationships with companies and distributors who could benefit from Eco-story's high-quality LED lighting solutions. His focus will be on national accounts in the retail, restaurant and hospitality industries.

"It's a great honor be joined by such a seasoned veteran in the lighting industry," said Bill Stauffer, co-founder of Eco-story. "Jim brings valuable knowledge that will be key in meeting organizations' intricate and complex lighting needs."
Prior to joining Eco-story, Jim held sales, marketing and managerial positions for various lighting companies, including Diogen LED Lighting, Galleria Lighting & Design and Sea Gull Lighting Products. Jim's experience has made him proficient in LED lighting testing procedures and Energy-Star criteria. He also has deep knowledge of utility rebates and specifications.
Eco-story, based in Portland, Maine and with offices in Denver, has a strong track record of manufacturing quality interior lighting for restaurants, retail stores and hotels. Eco-story's LED lights have proven to be a money-saver for businesses over traditional incandescent lamps, while retaining the look and ambiance businesses desire.
For more information on Eco-story LED Lighting and its products, visit www.eco-story.com. For sales inquiries, please contact Bill Stauffer at 207-774-9889 x101.
About Eco-story
Eco-story LED Lighting Solutions, based in Portland, Maine, was founded in spring 2007 on the premise that environmental improvements make strong economic sense. Due to improved technology and Eco-story's high-quality, reverse-engineered product, companies no longer have to compromise quality and color to use LED lighting to save on utility costs. Eco-story's LED bulbs are superior to traditional lighting bulbs, offering the highest quality of light on the market. Eco-story bulbs contain no mercury or harmful substances and can duplicate current lighting specifications. For more information, visit www.eco-story.com.
Contact:
Alicia Hassinger
CSG|PR
303.433.7020
ahassinger@csg-pr.com
Featured Product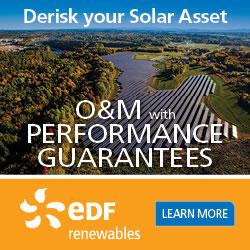 EDF Renewables offers the same innovative solutions that maximize the performance of our own 5.2 GW of installed projects. Because we're not an equipment manufacturer, our recommendations are transparent and data-driven. We cover the entire project lifecycle: from pre-commissioning support, through warranty and post warranty operation, to late stage and decommissioning.