2MW Photovoltaic Solar Facility Planned on the Closed Big Bear, CA Landfill - SunPods received a Letter of Intent for a closed municipal landfill project. Project Navigator, Ltd. (PNL) via PVNavigator (PVN), has entered into a lease option agreement with the County of San Bernardino for the project.
SAN JOSE, Calif., February 15, 2011 -SunPods announced today that the Company received a Letter of Intent to utilize the SunPods SOILS™ (Solar Operational Landfill System) for a closed municipal landfill project. Project Navigator, Ltd. (PNL) via its solar power projects development group, PVNavigator (PVN), has entered into a lease option agreement with the County of San Bernardino to begin the site evaluation to develop a 2 MW photovoltaic (PV) solar facility on their closed Big Bear Sanitary landfill located in Big Bear, CA.

PNL chose SunPods solar technology as the go to approach in their original proposal to the County. The SunPods factory-built solar arrays are delivered fully assembled and pre-wired to the project site. The solar units are then set in place and connected to scale to the specified project size.
Ian Webster, Sc. D., President of PNL, said, "The SunPods SOILS™ solution is ideal for landfills or brownfields sites where the surface area is often settling and capped to provide an environmentally protective containment system ." He adds, "By design, the SunPods solar system is self ballasted, rated to withstand up to 90 mph winds, and can be installed with no cap penetrations. The power adjustable legs are easily adjusted to accommodate uneven terrain."
PNL's "PV Navigator" expertise in deploying small-scale (1 to 20 MW) PV solar power projects on landfills and brownfield sites makes them an ideal strategic partner for SunPods." said Michael Gumm, SunPods Managing Partner. He continues, "They specialize in areas that are critical for implementing renewable energy solutions on compromised land including the often complex design, permitting, and financing phases."
About SunPods Inc.
Headquartered in San Jose, California, SunPods designs and manufactures factory-built solar solutions. SunPods solar systems can be delivered to the project site fully-assembled with all of the components required to generate solar energy. The SunPods Solar Smart Technologies™ design methodology minimizes on-site construction or site preparation and reduces installation time by up to 95 percent. Products include on-grid and off-grid solutions, EV solar charging and ground mount systems for commercial, government and residential applications. SunPods also delivers specialized solutions for landfills, brownfields and agricultural operations.www.sunpods.com
About Project Navigator, Ltd.
Project Navigator, Ltd. is a Brea, California-based, privately held engineering firm that has specialty expertise in managing landfill closures, and then subsequently developing solar projects on the closed waste prisms. Since 1997, PNL has developed an extensive track record of designing and implementing innovative solutions for clients at complex landfill closures, nationwide. More about PNL's solar development activities are at www.PVNavigator.com
Featured Product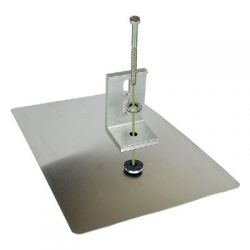 The GreenFasten™ - GF1 system utilizes the patented watertight technology EcoFasten Solar® is known for. The flashing is fit with our EPDM rubber bushing and when used with a compatible EcoFasten Solar compression bracket (milled with countersink), a watertight seal is created, which protects the integrity of the roof. Requiring just a single fastener (lag bolt or self-drilling), GreenFasten provides the fastest install in the industry and will not void roofing manufacturer's warranties. Backed by IAPMO certification, GreenFasten delivers a mounting solution for all new or existing (retrofit) composition shingle roofs, and is the most cost-effective solution available. Like all of the solar roof mount solutions in our line of products, GreenFasten is made in the USA using recycled materials.