Solamet® PV701 Raises Solar Cell Efficiency by Up to 0.4 Percent
RESEARCH TRIANGLE PARK, N.C., Feb. 16, 2011- DuPont Microcircuit Materials (MCM) has introduced DuPont™ Solamet® PV701 photovoltaic metallization paste as its newest generation of Metal Wrap Through (MWT) technology for back side interconnected silicon solar cell designs. This advanced product composition enables the manufacture of back contact cell designs delivering up to 0.4 percent greater conversion efficiency for solar cells, and is an important part of the business' roadmap of proposed technology options to help enable the industry goal for conversion efficiency of crystalline silicon (c-Si) solar cells beyond 20 percent by 2012.

New DuPont™ Solamet® PV701 photovoltaic metallization is specifically formulated to maximize efficiency for Metal Wrap Through solar cell designs
"DuPont™ Solamet® has become the leading brand in the photovoltaic industry because it has consistently raised the bar for efficiency, setting increasingly higher standards by enabling customers to reduce costs and enhance the competitiveness of their products," said Peter Brenner, global marketing manager, photovoltaics - DuPont Microcircuit Materials. "DuPont MCM research scientists have been advancing photovoltaic cell efficiency for over 20 years with an aim to help the industry reach grid parity faster, and with Solamet® PV701, we're one critical step closer."
DuPont™ Solamet® PV701 photovoltaic metallization paste is specifically developed as an enabler to provide up to 0.4 percent greater efficiency in MWT cell designs versus standard cell designs. MWT is a specialized cell structure that transfers the bus bars on the front side to the backside, reducing shading on the front side of the cell. The connections are made through holes in the silicon with the same composition as the bus bars. Employed as a via paste and p-contact metallization for back side tabbing interconnects, Solamet® PV701 features excellent electrical contact to front side silver grid structures, high-mechanical strength, low shunting, high-line conductivity and outstanding solderability as a p-contact metallization.
DuPont Microcircuit Materials has over 40 years of experience in the development, manufacture, sale, and support of specialized thick film compositions for a wide variety of electronic applications in the photovoltaic, display, automotive, biomedical, industrial, military and telecommunications markets. For more information on DuPont Microcircuit Materials and Solamet® metallization pastes, please visit http://mcm.dupont.com.
DuPont™ Solamet® photovoltaic metallizations are part of a broad and growing portfolio of products represented by DuPont Photovoltaic Solutions (DPVS), which connects science and technology from across the company on a global scale to help support the dramatic growth in the photovoltaic industry. To learn more, please visit http://photovoltaics.dupont.com.
DuPont (www.dupont.com) is a science-based products and services company. Founded in 1802, DuPont puts science to work by creating sustainable solutions essential to a better, safer, healthier life for people everywhere. Operating in more than 90 countries, DuPont offers a wide range of innovative products and services for markets including agriculture and food; building and construction; communications; and transportation.
Featured Product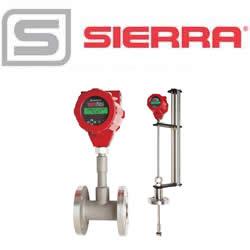 Sierra was the first to introduce a combination volumetric vortex and multivariable mass flow meter in 1997. Today, Sierra's completely redesigned InnovaMass® iSeries™ 240i/241i builds on two decades of success measuring five process variables for gas, liquid and steam with one connection. Now, with the latest hyper-fast microprocessors, robust software applications, field diagnostic and adjustment capability, and a new state-of-the-art flow calibration facility, Sierra's vortex iSeries delivers precision, performance, and application flexibility never before possible.