Cleantech developer TwentyNinety has won a Shell Springboard award, for its innovative photovoltaic technology Active Array™.
Active Array™ is an innovative low cost wireless technology which allows communication with each module in a PV array. It improves performance by 20% over the lifetime of the array, and adds safety and other benefits to photovoltaics. The technology is in trial with customers, and is launching fully in 2011.

The Shell Springboard programme has awarded over £1.6 million to 54 UK small businesses since it launched in 2005. The programme helps small businesses make an impact in the fight against climate change by providing a no-strings-attached financial boost to companies with innovative products and services that could help reduce greenhouse gas emissions. The Shell Springboard award to TwentyNinety is accompanied by a £20,000 prize.
Simon Hombersley, Chairman: "Shell Springboard is a highly competitive scheme, and TwentyNinety's success is a huge vote of confidence in Active Array™ and the company by a credible and prestigious organisation. TwentyNinety adds intelligence to photovoltaics, and through the award Shell Springboard recognises the innovation and commercial potential of Active Array™.
James Smith, Chairman Shell UK, said:
"Low carbon innovation creates real opportunities for British industry. The UK has huge talent and creativity in this area. In the last six years Shell Springboard has awarded over 50 small businesses with a total of £1.6 million to advance their new business ideas for products and services to tackle climate change."
A short film about Active Array™ is available at: www.twentyninety.com. To find out more about Shell Springboard visit www.shellspringboard.org.uk.
Notes to Editors
Contact: Andy Barber
andy.barber@twentyninety.com
www.TwentyNinety.com
About TwentyNinety
TwentyNinety develops Active Array™, a low cost wireless technology which enables new levels of management capability for PV systems and groundbreaking safety mechanisms for the protection of people and property.
It is less complex, more reliable and significantly lower cost than all other optimisation technologies.
More information about TwentyNinety can be found at www.twentyninety.com
For more information: www.twentyninety.com
Featured Product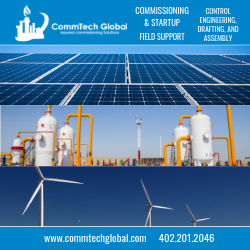 CommTech Global Solutions, LLC, provides professional and reliable commissioning services to customers in all realms of the energy industry. We blend our skills in engineering and technology with innovative business models, offering a complete range of services to assist you for a successful and in compliance operational startup. Consolidation of all our service domains gives our clients a comprehensive set of expertise and far-reaching experience on each project.