RESNET'S EXECUTIVE DIRECTOR STEVE BADEN TO SPEAK AT FREE ONLINE ENERGY AUDITING CONFERENCE - "BRINGING THE ENERGY AUDITING BUSINESS TO SCALE"
MIAMI, FL (March 7, 2011) - Concise Conferences (www.Concise-Conferences.com) is hosting a free 60-minute webcast "Bringing The Energy Auditing Business To Scale" with four of the industry's leading experts.

To register, please visit: http://bit.ly/eoED4f
There are over 130 million homes in America and the majority of them need energy efficiency upgrades. Analysts predicted over 168,000 energy auditing jobs would be created over the next few years, but consumer demand for audits has been slow.
The webcast is focused on discussing what needs to happen for the energy auditing industry to take off. The organizers have recruited four of best-known personalities in this space.
Steve Baden, Executive Director at Residential Services Energy Network (RESNET) has worked in the residential energy efficiency field for over twenty five years, including eighteen years with home energy ratings and energy mortgages on both the state and national levels, and ten years administering a state energy office. Mr. Baden initiated the "Warm Homes for Alaskans Initiative" which received the "1993 National Award for the Most Outstanding State Housing Program" from the National Council of State Housing Agencies. Steve was also awarded "Lifetime Achievement Awards" from the U.S. Department of Energy and RESNET.
Larry Zarker, CEO at Building Performance Institute (BPI) joined BPI in 2005. Larry previously had his own firm, MarketEdge Consulting. He focused his practice on helping building industry clients accelerate acceptance of innovative building products and systems. Larry worked for nearly twenty years with the NAHB Research Center and served as Vice President of Marketing for over a decade.
Sean Zobaa, President at Home Energy Team. Home Energy Team is building the first nationwide network of independent, highly-trained energy auditors delivering unbiased energy audit services to consumers seeking to enhance the energy efficiency of their home and reduce their carbon footprint. Founded in July 2008, Home Energy Team currently has affiliates in nineteen states, as well as the District of Columbia. After conducting an energy audit, each Home Energy Team auditor has access to a trusted network of local contractors available to service any recommended energy efficiency upgrades desired by the consumer.
Art Olson, Business Development Director at Conservation Services Group. Since 1984, Conservation Services Group (CSG) has pioneered promoting energy efficiency, conservation, and clean energy technologies that are helping consumers save money as well as protecting the environment. Today, CSG conducts nearly a half million home energy assessments annually for utilities and energy efficiency organizations nationwide. The company has reached more than 2 million homes in its 27-year history.
This free event is an online conference starting at 12pm March 7th. Follow this link for more information and to register: http://bit.ly/eoED4f
Concise Courses LLC, (Trading as Concise Conferences)
http://www.concise-conferences.com/energy-auditing.html
Media: Max Dalziel, max@concise-conferences.com
900 Biscayne Boulevard
Suite 4302
Miami, FL 33132
1.800.620.0950
###
Featured Product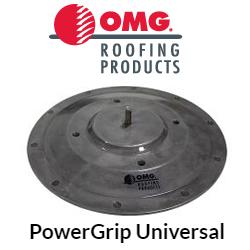 PowerGrip Plus Roof Mount System, a watertight structural attachment system used to secure ballasted solar racks and other equipment to roofs covered with thermoplastic (TPO and PVC) membranes. PowerGrip Plus is designed with wind performance in mind and offers ultimate tensile strength of 2,000 lbf. and ultimate shear strength of 1,075 lbf. Properly installed PowerGrip Plus units reduce rack movement and remaining watertight. PowerGrip Plus units are easy to install, saving both time and labor when compared to alternative options. A wide membrane skirt promotes easy welding in place, and the 15/8 diameter and 1/2 inch tall mount provides an optimal perch for securing brackets or struts. The exposed 1 inch tall and 3/8 inch diameter bolt and mounting stand are made from corrosion-resistant stainless steel and aluminum alloy for superior long-term performance.