REHAU has established a strategic alliance with Climate Automation Systems (CAS) to market the new, web-enabled REHAU Smart Controls System - an advanced interior comfort control system that integrates residential building technologies.
LEESBURG, Va., March 7, 2011 - REHAU announces its establishment of a strategic alliance with Climate Automation Systems (CAS) to market the new, web-enabled REHAU Smart Controls System. This advanced interior comfort control system will facilitate the integrated operation of residential building technologies, including radiant heating and cooling systems and solar and renewable energy sources, to promote an optimal balance of comfort and energy efficiency.

"Our alliance with CAS will facilitate the next-generation operation of building technology solutions, providing homeowners with greater control over interior comfort as it relates to achieving more energy efficient systems operation," said Bill Johansen, director of construction services at REHAU. "This is in alignment with our strategic focus toward providing customers with sustainable building technology solutions on an integrated, whole-systems level, and helping them to meet more aggressive energy saving goals both today and in the future."
The strategic alliance unites the foundational engineering capabilities of REHAU with the climate automation software development competence of CAS, and particularly the company's ENV system.
"The ENV system is the first of its kind to bring intelligent climate control technologies, previously exclusive to large-scale commercial buildings, into the residential and mid-range commercial market," said Ron Antinori, CEO and founder of CAS. "It balances all aspects of the home environment - from forced-air to radiant systems - and incorporates real-time weather data, a statistical database and established rules that create a better home climate, while also reducing the impact on our earth's environment."
The new REHAU Smart Controls System will enable real-time onsite or remote management and optimization of HVAC system functioning, including hot water heater, forced air and radiant systems, from any web-enabled device. Working to achieve maximum energy efficiency, it will facilitate the ability to set distinct comfort settings for each controlled zone, while recording and reporting critical system information through an internet-accessible database.
The system is designed to interface with weather service data and automatically adjust settings in anticipation of predicted weather condition changes. It will also provide immediate system troubleshooting data to the homeowner and designated service contractors, accessed through an easy-to-use online dashboard that enables quick, efficient diagnosis of potential issues.
For more information, contact: REHAU, 1501 Edwards Ferry Rd., N.E., Leesburg, Va., 20176. Phone: 1.800.247.9445. Fax: 1.800.627.3428. E-mail: rehau.mailbox@rehau.com. Web site: www.na.rehau.com/controls.
For more information, visit the Climate Automation Systems web site at www.climateautomationsystems.com or call 404.831.2762.
About Climate Automation Systems
Climate Automation Systems (CAS) is a software company founded by a group of software executives and electrical engineers that developed and markets the ENV product. Using intelligent climate control technology, ENV manages all of the mechanical systems in a home or commercial building. ENV balances the use of both forced air and radiant systems with the goal of optimizing the mechanical plant based on the tenets of a sustainable environment: reduced energy consumption; increased occupant comfort; and reduced CO2 emissions.
About REHAU
REHAU delivers "Unlimited Polymer Solutions," and is the premium worldwide brand for polymer-based innovations and systems in construction, automotive and industry. The company generates continuous growth through its expertise and innovative capabilities in materials development, systems design and surface technology. Approximately 15,000 employees at more than 170 locations around the world ensure success of the independent, privately held company.
-# # #-
TO THE EDITOR: Please do not convert REHAU to lowercase. Thank you.
Featured Product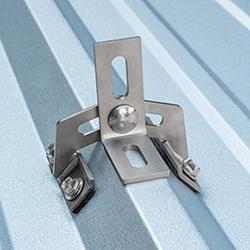 QuickBOLT Low Profile QuickBOLT with Microflashing™ is the industry's affordable, UL Certified Asphalt Shingle mounting system. The Microflashing™ is compressed by the collar on the bolt to create a water-tight seal. With an installation time of less than one minute, the Low Profile QuickBOLT allows installers to complete more jobs.