Operational since 2004, the plant has been expanded numerous times since opening. In 2008, a Solar Applications Lab was added, and has proven to be a key enabler for customers.
NORTH BILLERICA, Mass., March 9, 2011 — BTU International today announced the shipment of the 3000th thermal processing system from its manufacturing plant in Shanghai, China. BTU opened the facility in China in February of 2004. Located in the Waigaoqiao Free Trade Zone in Pudong, China, the plant has been expanded a number of times since opening. In 2008, BTU added a Solar Applications Lab to the site. This unique lab — which helps BTU's customers test and develop new processes while experiencing the advantages offered by BTU technology — has proven to be a key enabler for our customers.

"We are certainly proud of our China facility and the global teamwork that has enabled our success there. Being physically located in the region has allowed us to respond more quickly to our customers in China and the rest of Asia," said Paul van der Wansem, chairman and CEO of BTU International. "We have a long-term commitment to the region and it is a key part of our plans for continued growth in the future."
BTU has had a direct sales and service presence in China since 1995. In 2009, the Shanghai facility earned ISO 9001:2008 certification ensuring adherence to the highest quality standards.
About BTU International
BTU International is a market-leading, global supplier of advanced thermal processing equipment to the alternative energy and electronics assembly markets. BTU's equipment and expertise are used in the manufacturing of solar cells and nuclear fuel as well as the production of printed circuit board assemblies and semiconductor packaging. BTU has design and manufacturing operations in North Billerica, Massachusetts and Shanghai, China with direct sales and service worldwide. Information about BTU International is available at www.btu.com.
###
Company Contact:
Jan-Paul van Maaren
Vice President Marketing
BTU International, Inc.
Phone: (978) 667-4111
Media Contact:
Megan Wendling
MW Associates
Phone: (239) 237-5001
Featured Product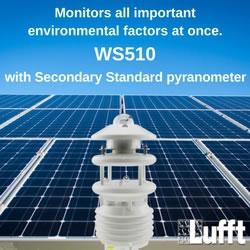 Professional weather sensors form the heart of large solar plants supporting their operation and performance. Lufft was the first manufacturer to combine several sensors in one housing, bringing the largest multiparameter weather sensor family with 19 members into being. Many of them are well-suited for solar site assessment and continuous monitoring. The most commonly used one is the WS600 delivering data on temperature, air pressure, wind, relative humidity and precipitation. Through its open protocol, it can easily be attached to radiation sensors e.g. from Kipp&Zonen. Other models have an integrated Silicon, Second Class or Secondary Standard radiation sensor.