Bangladesh Prime Minister Sheikh Hasina announces renewable energy platform at ICT Expo, showcasing Urban Green Energy's eddyGT 1kW vertical axis wind turbine
DHAKA, BANGLADESH, March 10, 2011 - The eddyGT 1 kilowatt (1kW) vertical axis wind turbine by Urban Green Energy (UGE), the New York-based manufacturer of small vertical wind turbines and hybrid wind/solar renewable energy solutions, will be showcased at the ICT Expo in Bangladesh from March 10 to 13, 2011. Prime Minister Sheikh Hasina will open the event and announce her country's renewable energy platform.

The expo takes place at the Bangabandhu International Conference Centre (BICC) in Dhaka. UGE's turbine will be introduced to the Asian Development Bank (ADB) at the event as a solution to the power crisis in Bangladesh. The first pilot project will use the country's largest bridges as the setting for wind turbines to produce energy. The total number of bridges in this pilot project is around twenty and the power load is approximately 1 megawatt.
Most of the bridges in Bangladesh are financed by the ADB and the World Bank. ADB has already shown interest in the project which is in collaboration with United SysNet Ltd.
Over the last year UGE has continued its rapid expansion and has now delivered products to 48 countries; 2010 was the first full year of sales for the company. The company's industry leading technology and manufacturing capacity, has led to its involvement in innovative projects around the world, with Bangladesh being one of the latest. Said Dan O'Connor, Senior Strategist at UGE, "Our customers are consistently finding that our wind turbines and hybrid systems provide the most effective solution for their energy need. We are very excited to be helping, in this case, providing a solution to Bangladesh's critical energy shortage with this unique solution."
For more information, please visit www.urbangreenenergy.com. For press inquiries, please contact Ann Amarga at ann.amarga@urbangreenenergy.com or +1 (917) 675-3949.
###
About Urban Green Energy
Urban Green Energy (UGE) is a global leader in small wind energy and renewable energy systems. With over 100 quality distributors and installations in nearly 50 countries, UGE designs, manufactures, and markets cutting-edge vertical axis wind turbines as well as hybrid wind/solar streetlamps with a track record of high performance, safety, and reliability. UGE-trained representatives can answer questions, supply our products, and provide post-sales support locally, no matter where our customers are located. Please visit www.urbangreenenergy.com to learn more about how Urban Green Energy can help you live a more sustainable life.
Featured Product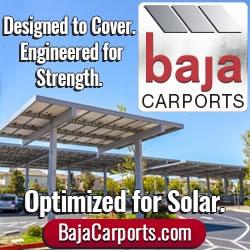 Baja Carports offers an extensive solar support system product line customized to customers' site specifications by in-house engineers, meeting their parking lot coverage, plus optimal PV production needs. Baja's Full Cantilever Tee is often paired with its Semi and Full Cantilever carports to meet live/loads up to 60psf and wind speeds to 160mph. All Baja products are pre-fabricated, bolted connections, pre-galvanized structural steel for fast on-site installation and project aesthetic requirements."