Solid Waste Technical Conference, April 12, 2011 ESD/DTE Energy Conference: May 10, 2011
SOUTHFIELD, Mich. ó The Engineering Society of Detroit (ESD) continues its commitment to finding ways to nurturing and promoting the energy industry in the State of Michigan. To that effect, ESD will hold two important conferences in the next two months: Solid Waste Technical Conference on April 12, 2011 and ESD/DTE Energy Conference on May 10, 2011.

In its 21st year, and in partnership with the Michigan Waste Industries Association (MWIA), the Solid Waste Technical Conference will feature keynote speaker, Carl Rush, Vice President, Organic Growth, Waste Management, Inc., who will discuss Innovations and Developments in Solid Waste Management. In addition, the conference will feature expert speakers and an important list of relevant topics, including: Future of solid waste management in the U.S.; Solid Waste Policy Issues; New Technologies; Regulatory Updates, and more.
Cost to attend the full-day (8 am to 5 pm), conference is $150 MWIA/ESD members; $185 non-member; $35 student; $100 government. There will also be an optional training day on Monday, April 11, 2011. Cost: ESD/MWIA/MDEQ members: $225; non-members $300. The conference will be held at the Kellogg Hotel & Conference Center in East Lansing.
Less than one month following the Solid Waste Conference, ESD will hold its successful Energy Conference & Exhibition on May 10, 2011 in partnership with DTE Energy. The event will take place at the Suburban Collection Showplace in Novi.
Hailed as one of Michigan's "largest energy conference of its kind," the event draws an annual crowd of more than 800 and features exhibitors with the latest products and information about energy and energy efficiency, as well as educational track sessions and an afternoon executive session with some of the industry's Who's Who.
Cost to attend: $65 for ESD Members; $85 for non-Members; $139 to attend the conference and become a member of ESD - includes a one-year subscription to Crain's Detroit Business (A total value of $253).
For more information about either one of those events, please contact Della Cassia at 248-353-0735, ext. 112 or dcassia@esd.org
Founded in 1895, ESD is a multi-disciplinary society uniting engineering, scientific and allied professions to enhance professional development and foster excitement in math and science to produce our next generation of leaders. Serving this generation of engineers and fostering the next. For more information, visit www.esd.org.
Founded in 2008 by The Engineering Society of Detroit Board of Directors,
The ESD Institute's mission is to advance, through excellence and collaboration, the successful implementation of innovation by bridging creative and independent thought with concrete and meaningful action. For more information, visit www.esdinstitute.net
Featured Product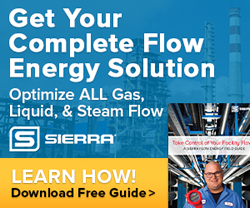 Download Flow Energy Guide - Written by Engineers For Engineers. Learn how to save on energy costs by optimizing your facility flows that impact costs like compressed air, natural gas, steam, and hot or chilled water.