Combining forces with long-time joint venture partner, Meteosim Truewind, AWS Truepower expands its global footprint and looks optimistically at the future of renewables both domestically and abroad.
ALBANY, NY—March 14, 2011—AWS Truepower, LLC, an international leader in renewable energy consulting and information services, today announced the official merger with its joint venture partner Meteosim Truewind, SL reflecting its commitment to increasing its global network of renewable energy consulting professionals and growing the market opportunities for its suite of consulting and information services.

"For nearly five years, AWS Truepower and Meteosim Truewind have been working closely together to bring AWS Truepower's portfolio of science and technology-driven solutions to the European, Latin American and Asian renewable energy markets," said Bruce Bailey, President and CEO of AWS Truepower. "The synergies between the firms are very strong and the success to date has exceeded expectations. Our historical market emphasis on the wind and solar energy industries in North America is reflective of sheer customer demand. However, we continue to see a rising demand from customers looking to develop wind and solar projects around the globe. Our expanded staff in Spain and India are now well positioned to serve the greater international marketplace. The business decision to merge into one global firm will allow us to increase efficiency and be more responsive to our customers worldwide."
AWS Truepower entered into the joint venture partnership with Meteosim Truewind in 2007 and also established an office in India in 2008. With today's announcement the company has over 100 employees based in New York, Barcelona and Bangalore, and anticipates revenues to top $25 million this year. Its worldwide professional staff of meteorologists, engineers, spatial analysts and environmental specialists enable energy companies to develop successful projects and provide financial organizations with objective assessments of investment opportunities, all of which require incredibly accurate, comprehensive and granular assessment data. The firm also supports asset managers, utilities and transmission system operators with diagnostic evaluations of project performance and with short-term (minutes to days ahead) forecasts of plant output.
"When we first met the executive team at AWS Truepower we immediately saw an opportunity given our in-house expertise in modeling and meteorology," said Joan Aymamí, Vice President and Manager of Europe & Latin America at AWS Truepower. "Over the last several years we have seen great success marketing these services to our customers. The merger will allow us to bring an even greater solution set to our customers including web-based siting and assessment solutions like windNavigator® and advanced consulting services in energy and performance assessment, and offshore wind. We are very excited to join the team and market under the well established brand of AWS Truepower."
The executive team at AWS Truepower now includes Bruce Bailey, President and CEO; Michael Brower, Chief Technical Officer; Mark Hellbusch, Chief Operations Officer; Nicki Armsby, Vice President of Finance & Administration; and Joan Aymamí, Vice President and Manager of Europe & Latin America.
AWS Truepower, LLC
AWS Truepower has been an international leader in renewable energy consulting and information services for over 25 years. AWS Truepower's suite of integrated services and innovative products support the full project lifecycle from resource and energy assessment, independent engineering, and due diligence, to performance assessment and power production forecasting. AWS Truepower's professional staff possesses in-depth knowledge and experience in all phases of project development and improving operational performance, which ensures a consistent, integrated solution. AWS Truepower is online at awstruepower.com.
Featured Product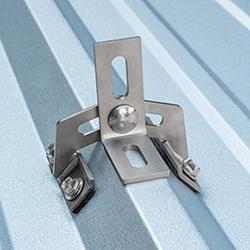 Error-Proof Compression: The QB2 doesn't leave any room for user error when it comes to Microflashing® compression. Once the Dual Drive Shoulder Screw is secured, the Microflashing® is compressed. Only 3 Components: The QB2 is comprised of Microflashing®, an L-foot and a Dual Drive Shoulder Screw. No more Nuts needed to tighten and secure the L-foot! Not only does this simplify the installation process, it also cuts down the installation time.