Schneider Electric solar inverters play an integral part in the Sunverge Solar Integration System at the 2500 R Street project in Sacramento, California.
Schneider Electric solar inverters play an integral part in the Sunverge Solar Integration System at the 2500 R Street project in Sacramento, California. The 34-single family home LEED™ Platinum housing project will be the first simple, cost-effective energy management system in California that intelligently distributes generation and storage of renewable energy.

"We're proud that Sunverge Energy chose our leading-edge Schneider Electric Xantrex XW Inverter/Chargers for this innovative project that provides cost-effective, sustainable housing," said Ted Campbell, Renewable Product Leader for Schneider Electric Renewable Energies Business.
The Schneider Electric Xantrex XW Inverter/Charger provides true sine-wave output and high surge capacity. The innovative Full Digital Control regulates voltage to help prevent a drop during a power surge. Full 200% rated output power is delivered to the load. Single-phase (230 Vac / 50 Hz or 120/240Vac / 60 Hz) and three-phase (230/400 Vac / 50Hz, or 120/208 Vac / 60Hz) configurations are possible. The XW is the foundation for battery- based residential applications up to 24 kW and commercial applications up to 36 kW in a three-phase configuration.
As the first private commercial micro-grid project of its kind in the greater Sacramento area, Sunverge's 2500 R Street project is designed to allow homeowners to achieve affordable, net zero energy efficiency. Through the solar storage system enabled by the Schneider Electric Xantrex XW Inverter/Chargers, each home is expected to be able to generate as much clean energy as it uses, which would translate to reduced utility bills and support national energy independence. Utilities can benefit by being able to control their renewable resources discretely or in aggregate, with the aim of improving utility transmission and distribution, deferring capital asset investment, improving grid reliability and reducing greenhouse gas emissions associated with peak load generation.
Groundbreaking for the 2500 R Street project is anticipated for May 2011.
About Schneider Electric
As a global specialist in energy management with operations in more than 100 countries, Schneider Electric offers integrated solutions across multiple market segments, including leadership positions in energy and infrastructure, industrial processes, building automation, and data centres/networks, as well as a broad presence in residential applications. Focused on making energy safe, reliable, and efficient, the company's 110,000 plus employees achieved sales of 19.6 billion euros in 2010, through an active commitment to help individuals and organizations "Make the most of their energy."
www.schneider-electric.com
Schneider Electric and the Schneider Electric logo are trademarks or registered trademarks of Schneider Electric.
Featured Product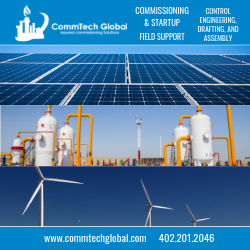 CommTech Global Solutions, LLC, provides professional and reliable commissioning services to customers in all realms of the energy industry. We blend our skills in engineering and technology with innovative business models, offering a complete range of services to assist you for a successful and in compliance operational startup. Consolidation of all our service domains gives our clients a comprehensive set of expertise and far-reaching experience on each project.