Former B.C. Premier and Mayor of Vancouver Brings Environmental Leadership to Fast Growth Battery Tech Firm
Corvus Energy, manufacturer of the world's most powerful lithium-ion batteries, today named Mike Harcourt, former premier of British Columbia, to its board of directors. Since launching in late 2009, Corvus has rapidly become one of Canada's most watched technology companies through its developments in hybrid and full-electric propulsion systems for a variety of vehicles, from ocean submersibles to spacecraft, and advanced storage and distribution solutions for the renewable energy industry.

As former premier of British Columbia, mayor of Vancouver and city councillor, Mike Harcourt helped British Columbia earn its reputation as one of the most liveable places in the world. His focus on conservation and sustainable development — and his determination to contribute to the transformation of cities and communities around the world — has played a significant role in promoting and improving quality of life in Canada and abroad.
"Mr. Harcourt brings a high level of political clout and environmental leadership to a company that's experiencing significant global growth," said Brent Perry, Corvus Energy Chief Executive Officer. "His experience in sustainability and reputation for driving results in the government and private sector will be invaluable as we enter new markets."
Corvus' Titan series lithium-ion battery packs can last 10 times as long, have four to 10 times the power and energy storage of lead-acid batteries in one quarter of the weight and volume. They are an ideal energy storage solution that can act as a standby source of electricity or support fuel-driven engines to reduce fuel consumption by up to 80 percent in large-scale industrial applications. The marine industry, ports industry and grid related applications are a few of the areas that can be optimized using Corvus Energy solutions.
Each pack delivers at least 22 percent more power and energy density than the most powerful lithium-ion phosphate batteries used in electric vehicles and consumer products. The result equals cost savings in the form of reduced battery replacement and maintenance, increased usable battery power, a smaller environmental footprint and less weight.
About Corvus Energy:
Corvus Energy is based in Richmond, B.C. and provides industrial-sized power in a compact, modular lithium-ion battery system to the commercial marine industry, transportation industry, ports machinery, remote community, off grid and grid energy markets. Its revolutionary battery packs have the capacity to output sustained power comparable to diesel engines in hybrid and full-electric vessels and vehicles. Where alternative energy solutions are concerned, Corvus is more! For more information on Corvus Energy, visit corvus-energy.com or call (604) 227-2080.
Featured Product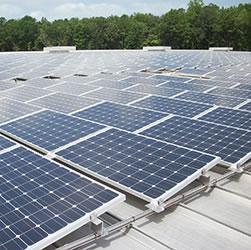 The Power Rail™ Commercial Mounting System is designed with the professional PV solar installer in mind. Both the XD/UD and LD/MD rails feature single tool assembly with the revolutionary patented RAD™ Lock-in-Place bolt for fast and secure module clamping. The high strength marine-grade aluminum rails include an integral wiring channel for securing cables and providing a professional finish.