Sustainable Energy Technologies Ltd (TSX V:"STG") ("Sustainable Energy" or the "Company") Canada's solar inverter company, announced today that it has validated core power control concepts enabling significant advances in the transformer topology for its SUNERGYTM inverter line.
Sustainable Energy Announces Breakthrough in Power Control Technologies

- Advances in Power Controls To Drive Further Cost Reductions and Higher Efficiencies -
Highlights:
• Increased efficiencies to more than 97% - among the highest in the industry;
• Advanced transformer topology maintain drive to lowest cost/watt in its power range;
• Product platform for lowest cost "parallel" system in residential market;
• Multiple patents pending with US Patent Office;
• Research foundations being laid for utility smart-grid products of the future;
• Collaborative research with University of Alberta funded by Alberta Advanced Education and
Technology.
Calgary, Alberta - March 2, 2011 - Sustainable Energy Technologies Ltd (TSX V:"STG")
("Sustainable Energy" or the "Company") Canada's solar inverter company, announced today that it
has validated core power control concepts enabling significant advances in the transformer topology
for its SUNERGYTM inverter line. The achievements are the results of more than a year of collaborative
research with the Faculty of Engineering at the University of Alberta who received funding by Alberta
Advanced Education and Technology.
The concepts have been validated in production scale prototypes at the Company's labs in Calgary and
development of the first commercial product platform incorporating the new topology and controls is
underway with a targeted delivery during this year.
"We are very excited about the outcomes," said Brent Harris Chief Technology Officer and a coinventor
of the Company's patented technologies. "Not only has the research contributed to achieving
our near term commercial goals - namely lower cost and higher efficiencies - we have collaboratively
achieved what we believe to be several scientific breakthroughs in transformer design which will open
the way to a range of new product opportunities."
The control concepts, which are owned exclusively by the Company, are the subject of several ongoing
patent filings with the US Patent Office.
The new controls will increase peak efficiencies above 97% which is among the highest in the industry.
More importantly, the transformer topology will lead to material reductions in manufactured cost
across a range of power ratings maintaining Sustainable Energy's drive to deliver the lowest cost per
watt in its power class in the industry.
The new transformer topology also enables a lighter weight, smaller platform in lower power ratings
suitable for residential markets later this year. SUNERGY is the only product in the market today
which enables the superior performance and safety of the low voltage parallel system architecture
with an installed cost per watt, serviceability and reliability that is comparable to conventional
inverters.
The collaborative research program with the University of Alberta is ongoing with funding from Alberta
Advanced Education and Innovation. A key goal of the University research program is to create a
product platform which will be the foundation for the advanced control requirements currently being
developed as part of smart grid planning at utilities worldwide.
About Sustainable Energy:
Sustainable Energy (www.sustainableenergy.com) is Canada's solar inverter company. The
Company's patented inverter technologies are a breakthrough in power inverter design and
capabilities for all forms of distributed generation and smart grid applications.
The SUNERGYTM inverter is the industry's only grid-interactive solar inverter which enables a "parallel"
solar PV system architecture in higher power ratings at a cost and serviceability factor that is
comparable to conventional inverters in the market. The benefits of parallel solar are: (i) 5% - 25%
higher total system power output; (ii) a better fill factor enabling better coverage of available space;
(iii) simplified system design and installation; and (iv) the safety of extra low operating voltages which
ensures the safety of building maintenance personnel, first responders, and tradesmen who may
accidentally come into contact with system wiring.
Sustainable Energy's technologies are the subject of multiple patents issued by and pending with the
Canadian and US Patent Offices.
Forward Looking Information
The reader is advised that some of the information herein may constitute forward-looking statements within the
meaning assigned by National Instruments 51-102 and other relevant securities legislation. In particular, we
include: statements concerning the impact of our technology on solar PV system performance. Forward-looking
information is not a guarantee of future performance and involves a number of risks and uncertainties. In particular
there is no assurance that performance of the systems will be as estimated or that market demand in Ontario will
materialize.
Many factors could cause the Company's actual results, performance or achievements, or future events or
developments, to differ materially from those expressed or implied by the forward-looking information. Readers are
cautioned not to place undue reliance on forward-looking information, which speaks only as of the date hereof.
Readers are also directed to the Risk Factors section of the Company's current Annual Information Form which may
be found on its website or at www.sedar.com The Company does not undertake any obligation to release publicly
any revisions to forward-looking information contained herein to reflect events or circumstances that occur after
the date hereof or to reflect the occurrence of unanticipated events, except as may be required under applicable
securities laws.
Neither the TSX Venture Exchange nor its Regulation Services Provider (as that term is defined in the policies of
the TSX Venture Exchange) accepts responsibility for the adequacy or accuracy of this release.
Company Contact Information
Michael Carten
Chief Executive Officer
Brent Harris P.Eng
Chief Technology Officer
Phone: 403.508.7177 #111 Phone: 403.508.7177 #110
Michael. Carten @SustainableEnergy.com Brent.Harris@SustainableEnmergy.com
Featured Product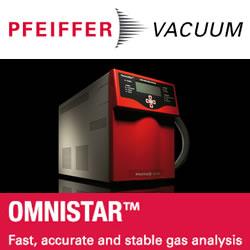 The Pfeiffer Vacuum OmniStar benchtop analysis system offers you a compact footprint, powerful software and Ethernet connectivity. It's the optimum solution for many real-time gas analysis applications. With the OmniStar, Pfeiffer Vacuum offers you a complete solution for gas analysis, in chemical processes, semiconductor industry, metallurgy, fermentation, catalysis, laser technology and environmental analysis. The turnkey OmniStar gas analysis system consists of heated, temperature-regulated gas inlet system, Quadrupole mass spectrometer, a dry diaphragm vacuum pump and HiPace turbopump. Unlike competing methods such as FTIR, OmniStar is suitable for qualitative and quantitative analysis of most gases.