Photovoltaic specialists PAIRAN and ESEI Solar are pleased to announce an exclusive joint venture to market and sell high-quality dual-axis trackers in Canada.
Göttingen, March 24, 2011 - Photovoltaic specialists PAIRAN and ESEI Solar are pleased to announce an exclusive joint venture for the Canadian market. As of Jan. 1, 2011 ESEI Solar will distribute PAIRAN tracking systems in Canada.

PAIRAN trackers are currently the only tracking systems available with full UL and CSA certification. Previously, these certifications were only available for individual components, but the PAIRAN SF tracking systems (ranging from SF-10 to SF-60) have now been certified for use as complete systems.
For marketing and distribution efforts in the United States and Canada, this important stepping stone will give PAIRAN systems "the best possible footing", according to Peter Fleitmann, Head of International Project Sales. "Without official safety approval, it is essentially impossible to get a product listed by American or Canadian dealers."
ESEI Solar and PAIRAN will broaden their cooperative marketing efforts and have agreed on a number of joint activities, such as the co-branding of ESEI and PAIRAN across all respective marketing activities, beginning with websites, monthly press releases submitted to edition houses with headlines such as "UL-listing for PAIRAN systems in the USA", "ESEI Solar distributes PAIRAN" and "PAIRAN SunControl now available with ESEI Soft's PlantMinder".
With a joint presence planned for a series of important international trade fairs, PAIRAN and ESEI Solar will both profit from the effects of this cooperative marketing undertaking, sharing both costs and know-how.
PAIRAN company information:
Founded in 1983 by businessman Rüdiger Pairan from Göttingen, the business started as a craft producer for radio and television technology. Today, the name of PAIRAN stands for a continuously growing, international company in the photovoltaic industry. With 150 employees at six locations in Germany, the Czech Republic, Spain, Greece, France and Italy, the German solar technologist produces custom-made tracking systems, free-standing systems and on-roof systems throughout Europe. Besides high-performance inverters and PV module systems, the product portfolio includes low-maintenance tracking systems and tailored accessories for different module systems.
ESEI Solar company information:
ESEI Solar is a full-service engineering, procurement and construction (EPC) company, specializing in residential and commercial grid-tie solar projects. We are based in Ontario, Canada and have international project development offices in Germany and India.
Featured Product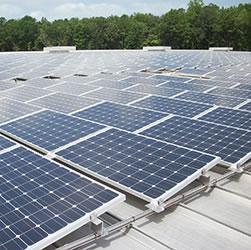 The Power Rail™ Commercial Mounting System is designed with the professional PV solar installer in mind. Both the XD/UD and LD/MD rails feature single tool assembly with the revolutionary patented RAD™ Lock-in-Place bolt for fast and secure module clamping. The high strength marine-grade aluminum rails include an integral wiring channel for securing cables and providing a professional finish.