Certification for key North American Photovoltaic safety requirement
Tempe, Ariz. - March 24, 2011 - TÜV Rheinland PTL, LLC, North America's largest solar and photovoltaic testing company, was approved by the U.S. Occupational Health and Safety Administration (OSHA) to provide certification for ANSI/UL 1703 the required North American solar safety mark. The accreditation is the latest in TÜV Rheinland´s comprehensive portfolio of testing and photovoltaic certifications to help clients penetrate the global marketplace.

Worldwide, photovoltaic solar module manufacturers and the suppliers of related components consider the U.S. a large target market according to industry analysts. ANSI/UL 1703 certification is currently one of the pivotal regulatory requirements to launch photovoltaic products in the U.S. marketplace.
"We are very pleased by the accreditation of our North American certification body from OSHA. The elevation of status as a Nationally Recognized Test Laboratory (NRTL) for TÜV Rheinland PTL will give TÜV Rheinland Group another of the key pieces to service our clients globally," said Richard Bozicevich, North American Business Field Manager for Solar Services "With this accreditation we can leverage the expertise and geographic reach of the TÜV Rheinland network to better service clients across the globe."
Around 80% of all solar module manufacturers have their products tested at TÜV Rheinland to obtain national and international market licenses. TÜV Rheinland operates test laboratories for solar modules and systems in six locations worldwide: Cologne, Germany; Shanghai, China; Taichung, Taiwan; Yokohama, Japan; and Bangalore, India as well as a U.S. facility in Tempe, Arizona at TÜV Rheinland PTL. Nearly 200 experts specializing in solar technologies work at the existing test centers.
For more information, visit www.tuvptl.com or call TÜV Rheinland toll-free at 1-TUV-RHEINLAND (888-743-4652).
About TÜV Rheinland PTL, LLC
Based in Tempe, Ariz., TÜV Rheinland PTL, LLC is a leading provider of safety and performance testing and market certification serving every sector of the photovoltaic and solar thermal marketplace, from the supply chain through installation. TÜV Rheinland PTL is a member of the TÜV Rheinland Group, which has the largest network of solar energy laboratories worldwide, with six major laboratories on three continents. The lab was formed as a unique partnership between Arizona State University, an institution with more than 50 years of research on solar energy and extensive solar testing know-how, and TÜV Rheinland, a $1.5 billion global provider of independent testing, assessment, and certification services. For more information, visit www.tuvptl.com.
About TÜV Rheinland
Founded in 1871, TÜV Rheinland North America is a global leader in independent inspection services. The company inspects technical equipment, products and services; oversees projects; and helps to shape processes for U.S. companies seeking entry to worldwide markets. With 14,500 employees, TÜV Rheinland maintains a presence in approximately 500 locations in 61 countries. In addition, it encompasses an international network of approved labs, testing facilities and education centers, and its experts train people across a wide range of industries. For more information, visit www.tuv.com/us.
Featured Product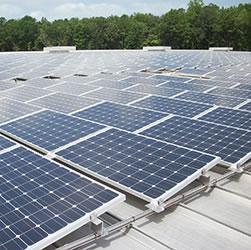 The Power Railâ"¢ Commercial Mounting System is designed with the professional PV solar installer in mind. Both the XD/UD and LD/MD rails feature single tool assembly with the revolutionary patented RADâ"¢ Lock-in-Place bolt for fast and secure module clamping. The high strength marine-grade aluminum rails include an integral wiring channel for securing cables and providing a professional finish.