The UNESCO Regional Cairo Bureau has been an active player promoting the adoption of alternative energy in the MENA region.
Dr Nazar Hassan, Deputy Director of the UNESCO Regional Cairo Bureau has been working on a strategy that benefits both the nations within MENA, and the industry heavyweights that can serve the energy demand and contribute to the local economy.

One great resource that can stimulate growth and create the required dynamic societies is the Arab youth (about 30% of the Arab population), but only if they are well-educated and properly employed. But as we have seen the current "inability of Arab governments to provide the young with relevant employment after schooling or university education has resulted in regional social upheaval.
This has been a contributing factor to UNESCO's proposal for a regional initiative that addresses regional technological advancement and technology transfer through a North-South Cooperation.
The European community have a lot to benefit from this initiative as it provides new opportunities to the European solar industry as they can become actively engaged in the growth of the commercial solar market. Dr Nazar Hassan (UNESCO, Cairo) will be presenting this initiative as a guest speaker at MENASOL 2011's webinar taking place April 6th at 3.30 EET.
Heidi Hafes, Event Director of MENASOL 2011 said 'We are very excited about this interactive webinar, which is titled 'How will solar survive in MENA'. It is open for anyone who is interested in getting the answers and even better it is free to attend.'
Dr Nazar Hassan will address the main ways the solar industry can drive the solar market forwards, including:
Technology knowledge transfer: Developing a strategy that attracts government backing for large scale solar projects
Utilising local resources: Implementing a local manufacturing strategy to drive down development costs
Exporting power to Europe: DESERTEC, MEDGRID and MSP - Uncovering the solutions to transmission feasibility, utility interest and political support
For more information or to register for the webinar:
Visit: https://www3.gotomeeting.com/register/190244982
Contact:
Heidi Hafes
Event Director
CSP, CPV, Thin Film Today
+44 207 375 7206
heidi@csptoday.com
Featured Product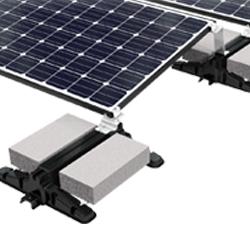 The Power Rail™ Commercial Mounting System is designed with the professional PV solar installer in mind. Both the XD/UD and LD/MD rails feature single tool assembly with the revolutionary patented RAD™ Lock-in-Place bolt for fast and secure module clamping. The high strength marine-grade aluminum rails include an integral wiring channel for securing cables and providing a professional finish.