The capital cost of Parabolic Trough plants is one of the most restrictive characteristics of Parabolic Trough technology, accounting for 40-45% of the total lifetime cost. This is one of the findings of the new report "Concentrated Solar Power Parabolic Trough: Cost & Performance" by CSP Today
It is therefore essential to identify the main cost drivers and to identify how these could be reduced in order to make Parabolic Trough technology more competitive.

The report found that the components with the most significant impact on Lower Levelized Energy Cost (LCOE) were the Solar Field, followed by Operations & Maintenance. From this, the report can conclude that LCOE reduction of 5% is possible if O&M costs are reduced by 20%.
Similarly, the same reduction in the power block, TES, or indirect cost will only reduce LCOE by 2% according to the new research report from CSP Today.
The industry should therefore focus on reducing solar field costs, i.e. collectors, mirrors, absorbers, hydraulic actuators, and HTF piping. The report finds that the same holds for O&M costs, which can significantly reduce the running cost per kWh produced.
Knowing how to achieve the most energy at the lowest cost from parabolic trough CSP is vital as parabolic trough accounts for more than 98% of total operating CSP plants and 70% of plants under construction.
The data for the "Concentrated Solar Power Parabolic Trough: Cost & Performance" was collected from more than 45 exclusive interviews with CSP developers, component manufacturers and leading scientists in the field in order to deliver 100% impartial and scientific assessment of the current cost of Parabolic Trough.
The Concentrated Solar Power Parabolic Report examines the technological, financial and commercial factors that shape the costs of Parabolic Trough CSP. The report's free selected findings are available to download at www.csptoday.com/cspcostreport/findings
For more information visit: http://www.csptoday.com/parabolictrough/index.shtml
Or contact:
Bea Gonzalez
CSP Today
bea@csptoday.com
Featured Product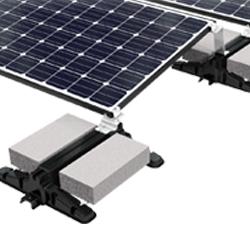 Preformed Line Products introduces the POWER MAX Ballasted Roof Mounting System. The POWER MAX solar mounting system is engineered to maximize energy output on commercial flat roofs. Developed with the professional installer in mind, this system offers adjustable inter-row spacing in the field of up to 11 inches. It features 50% fewer components and a simplified design resulting in faster assembly rates and labor savings on every project. Available in a flush mount, 5˚ or 10˚ tilt or higher density dual tilt design, the POWER MAX base arrives stacked on pallets providing easier transport to the roof. Engineered as a fully ballasted, non-penetrating system, it accepts standard concrete blocks and is qualified by wind tunnel testing.