After making a splash on the West Coast with the debut of their Solar Integration System (SIS), Sunverge is now bringing their cutting-edge energy storage solution to the East Coast in the Energy Innovation Hub at the Philadelphia Navy Yard.
Sunverge Energy, a California-based company that optimizes the value of solar power by leveraging the practical advantages of distributed generation and storage, is proud to announce their participation in the Energy Innovation Hub at the Philadelphia Navy Yard. Featuring batteries from International Battery, Sunverge's Solar Integration System (SIS) will be showcased at the Navy Yard.

This project, a national center for research, education and the commercialization of energy-related technologies, is combining efforts of researchers from academia, the private sector and national research laboratories to save energy, reduce carbon emissions and position the United States as a leader in renewable energy resources.
"The Navy Yard has a huge potential to improve how we use energy," explained Penn State professor David Riley. "Systems like this are proven to have market viability, we need a workforce to design, install, and inspect them. Energy storage and smart grid systems represent a new market that could save energy and create thousands of jobs."
This sophisticated project will incorporate living laboratories, spurring innovation, job creation as well as positioning the United States as a model of energy independence by creating and showcasing energy efficiency strategies and best practices for building design.
"Competitive wholesale electricity markets, such as PJM's, provide opportunities for renewable energy, and energy storage is an exciting means to optimize availability of renewables and overcome the intermittent nature of these renewables," said Chantal Hendrzak, general manager - Applied Solutions at PJM Interconnection, operator of North America's largest power grid. "Energy storage also has the opportunity to participate in the regulation service market, which offers the potential for additional revenue."
Sunverge has developed a cutting-edge distributed energy solution that captures solar energy at its most plentiful and stores it for use during peak demand hours, when cost to produce and deliver electricity is at its highest. The Sunverge SIS will be featured in the Navy Yard project, integrating inverter, gateway interoperability and storage technology into one minimally invasive and efficiently-designed unit measuring 14" deep, 24" wide and 73" tall.
"From multiple small Sunverge units, energy can be managed independently and in aggregate to produce significant grid-scale benefits, resulting in faster, cleaner and more reliable energy than conventional grid resources," adds Ken Munson, President, Sunverge Energy. "The Sunverge SIS will provide improvements in power quality and economy while the system will benefit from peak load reduction, demand response participation and a decline in greenhouse gas emissions,"
International Battery is partnering with Sunverge to provide large-format Lithium ion batteries for the Sunverge SIS. These large-format batteries are manufactured in Allentown, PA in an aqueous process that provides many environmental benefits.
"Energy storage systems need to be robust and dependable," said Vice President, Business Development and Sales for International Battery, John Battaglini, "Today's advances in battery technology, combined with superior methods of monitoring and managing electricity, take energy storage to a much higher level of integration in smart energy applications. We're pleased to work with Sunverge on this important project."
The Sunverge SIS will make its East Coast debut at the 2011 PV America Conference, April 3, at the Pennsylvania Convention Center. The unit will be on display with International Battery, located at booth number 531.
About Sunverge Energy
Sunverge Energy (www.sunverge.com), a California-based company, optimizes the value of solar power by leveraging the practical advantages of distributed generation and storage. The simple, intelligent and cost-effective energy management system captures solar energy and stores it for use when it's needed most, thereby shifting electrical loads, flattening peak electricity demand and maximizing return on renewable energy investments. With an innovative grid-tied model that aligns the goals of residential consumers and electricity utilities, Sunverge is poised to help solve the energy problems of today and tomorrow.
About International Battery
Headquartered in Allentown, Pa., International Battery (www.internationalbattery.com) is a U.S. manufacturer, designer, and developer of large-format Lithium-ion rechargeable cells and batteries for use in a wide range of transportation, industrial, electric utility, smart grid and military applications, employing a uniquely environmentally friendly manufacturing process.
Featured Product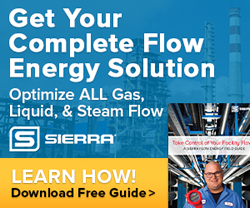 Download Flow Energy Guide - Written by Engineers For Engineers. Learn how to save on energy costs by optimizing your facility flows that impact costs like compressed air, natural gas, steam, and hot or chilled water.