Photovoltaic installations double over 2009 Largest concentrating solar power plant in 20 years comes online Solar heating and cooling reverses trend and expands Source: The Solar Energy Industries Association
Photovoltaic installations double over 2009

Largest concentrating solar power plant in 20 years comes online
Solar heating and cooling reverses trend and expands
Source: The Solar Energy Industries Association
The U.S. solar energy industry had a banner year in 2010 with the industry's total market value growing 67 percent from $3.6 billion in 2009 to $6.0 billion in 2010, according to the U.S. Solar Market InsightTM: Year-in-Review 2010 released today by the Solar Energy Industries Association® (SEIA®) and GTM Research. Solar was a bright spot in the U.S. economy last year as the fastest growing energy sector, contrasting overall U.S. GDP growth of less than 3 percent.
In total, 878 megawatts (MW) of photovoltaic (PV) capacity and 78 MW of concentrating solar power (CSP) were installed in the U.S. in 2010, enough to power roughly 200,000 homes. In addition, more than 65,000 homes and businesses added solar water heating (SWH) or solar pool heating (SPH) systems.
The U.S. PV market made the most significant strides in 2010, more than doubling installation totals from 2009 according to the latest U.S. Solar Market InsightTM report. This expansion was driven by the Federal section 1603 Treasury program, completion of significant utility-scale projects, expansion of new state markets and declining technology costs.Solar Power For Your Home
The section 1603 Treasury program helped fourth-quarter installations surge to a record 359 MW and was critical in allowing the solar industry to employ more than 93,000 Americans in 2010. Originally set to expire at the end of 2010, the 1603 Treasury program was ultimately extended through 2011.
In addition, market diversification was a distinguishing characteristic of U.S. solar energy development in 2010. Sixteen states each installed more than 10 MW of PV in 2010, up from only four in 2007. The top 10 states for PV installation in 2010 were: California, New Jersey, Nevada, Arizona, Colorado, Pennsylvania, New Mexico, Florida, North Carolina and Texas.
Cost declines were also an important factor in the 2010 solar expansion, as technology costs fell and the industry matured further, capitalizing on greater economies of scale and improved installation practices. In the residential and commercial-property segments, installed annual PV system cost declines of 8 percent and 11 percent respectively spurred record build-out.
"The U.S. PV market saw a breakthrough in 2010 and is emerging as a global demand center for both suppliers and project developers," said Shayle Kann, Managing Director of Solar at GTM Research. "The U.S. Solar Market InsightTM: Year-in-Review 2010 examines the conditions that led to the past year's growth and pinpoints future demand, industry trends and market challenges for 2011 and beyond."
Featured Product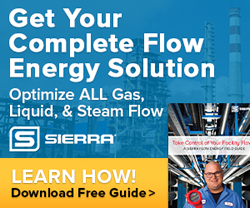 Download Flow Energy Guide - Written by Engineers For Engineers. Learn how to save on energy costs by optimizing your facility flows that impact costs like compressed air, natural gas, steam, and hot or chilled water.