All-Energy, the UK's largest renewable energy exhibition and conference, has just got even larger. Indeed, it is 30% larger than All-Energy 2010, with 1500m2 added to its size to ensure all who want to exhibit can do so.
All-Energy, the UK's largest renewable energy exhibition and conference, has just got even larger. This year's exhibition was already set to be a thousand square metres larger than the 2010 show, but space demand has been such that an extra 250m2 has now been added to the floorplan to enable those on the waiting list to exhibit. Registrations are coming in thick and fast with nearly 2000 already registered to attend the annual event, which is being held at Aberdeen Exhibition and Conference Centre (AECC) on 18-19 May.

"All-Energy has always reflected the mood within the various sectors making up the dynamic renewable energy industry, and grown every year since it was launched," explains Event Director, Jamie Thompson of Media Generation Events Ltd. "We therefore expected the exhibition to grow, and added on nearly a thousand square metres when we launched the 2011 floorplan. Demand was great and we were able to add in more space, then we had to expand again; and now we have done so quite dramatically by adding a whole structure, rather than simple walkways, between our 2,350m2 (net) temporary structure and the permanent AECC hall. Exhibitors from nearly 20 countries are set to take up 6,500m2 (net) in all."
Free to attend multi-stream conference
The free-to-attend seven stream conference is always a draw for All-Energy participants, and this year's will not disappoint. Speakers in the opening plenary session, chaired by Andrew Jamieson, ScottishPower Renewables and Chairman of RenewableUK, include: The Lord Provost of the City of Aberdeen; Charles Hendry MP, Minister of State, DECC - Department of Energy and Climate Change; Rainer Bomba, Permanent State Secretary, Federal Ministry of Transport, Building and Urban Development (BMVBS); Germany; Sir Ian Wood, Chairman, Wood Group; and Niall Stuart, Chief Executive, Scottish Renewables.
"With the Scottish Government elections less than a fortnight before All-Energy we will not be able to announce the name of the participating Scottish Government minister until just before the show opens," explains Jamie Thompson.
With topics ranging from sources of renewable energy (onshore and offshore wind; hydrogen and fuel cells; hydropower; wave and tidal; bioenergy (biomass, biogas, biofuel and energy from waste); and geothermal - as well as microgeneration, carbon capture and storage, nuclear power, and the all-important issue of energy efficiency, the conference looks at all key issues affecting the industry. These issues include power storage; the grid; investment, and industry perspectives on financing; health and safety; skills; public perception - winning hearts and minds to achieve targets; and sustainable transport.
Increasingly organisations involved in the renewable energy industry organise dedicated sessions at All-Energy. This year's include:
• Industrialising the offshore wind sector: The continuing call to arms to the UK offshore supply chain - organised by the Aberdeen Renewable Energy Group (AREG)
• Growing the renewable economy - organised by UK Trade and Investment
• Bankable projects: Regs, Risks and Returns - organised by the Scottish European Green Energy Centre (SEGEC)
• Fish 'n' chips: rising to current industry challenges - organised by British Hydropower Association
• The Smart Grid - organised by The IET
• Austria - Renewable Energy Showcase: Experience with renewable heat - organised by the Austrian Trade Commission
• Renewables for communities - organised by community Energy Scotland
• Investment in innovation in renewables - organised by Cleantech Investor
• District heating - organised by the Combined Heat and Power Association
• Scottish Enterprise Foresighting workshop: Scottish supply chain development for a new energy future - organised by Scottish Enterprise
• Powering growth - grasping opportunities - organised by the Industrial and Power Association
• SuperGen - organised by The Engineering and Physical Sciences Research Council (EPSRC)
All elements of All-Energy 2011 - the major exhibition, multi-stream conference, ever-popular Giant Networking Evening on 18 May and the Careers Fair and Jobs Zone on 19 May - are free to attend for all with a business/professional interest in renewable energy, and registration is open at www.all-energy.co.uk
All-Energy 2010 attracted some 7000 from 55 countries; 450 exhibiting companies from 16 countries; and over 270 speakers - this year's is set to break all these records.
Associated events
Information on the programme of associated events at All-Energy is on the website at www.all-energy.co.uk.
Throughout the duration of the show UK Trade and Investment (UKTI) is offering visitors and exhibitors the opportunity to speak with market experts and international companies from across the globe about opportunities for their business in the renewable energy sector. Over 20 UKTI Market Experts will be at the show from Australia, Belgium, Brazil, Chile, China, Cuba, Denmark, Germany, India, Italy, Japan, Malaysia, Norway, Philippines, Portugal, Spain, South Korea, Switzerland, United Arab Emirates, and USA; there will also be the opportunity to hold one-to-one (speed networking) sessions with some of the international companies UKTI is hosting; and to attend a briefing seminar on China and South Korea (19 May). Further information on the All-Energy website and at http://bit.ly/hykn97
Even before All-Energy 2011 opens there are two events on 17 May - the Renewable Energy / Oil & Gas Opportunities event organised by the Energy KTN with RenewableUK aimed at supply chain companies in either sector eager to take part in targeted 1-1 meetings (12.30-17.00 - pre-registration essential); and RenewableUK Connect (an evening event).
Then on opening day (18 May) there is the All-Energy 2011 Business Breakfast organised by Aberdeen & Grampian Chamber of Commerce; and in the afternoon InvestinCornwall is holding a seminar: 'Leading the way in Marine Renewable Energy'. Pre-registration is requested for both events - contact details are on the All-Energy website.
In the evening All-Energy's Giant Networking Evening with its dodgems and other attractions will see a thousand or more people gather to continue discussing key topics and networking into the evening after enjoying Aberdeen City Council's Civic Reception.
19 May, Day Two of All-Energy, sees the All-Energy Careers Fair, and Jobs Zone taking place; as well as Education Day aimed at specialist and guidance teachers and organised by Aberdeen City Council, Aberdeenshire Council, the Energy Institute and Society of Petroleum Engineers - including, for the first time, the finals of a Renewable Energy Challenge for schools, and the launch of an on-line resource.
Technical tours
All-Energy visitors and exhibitors are urged to stay overnight on 19 May in order to continue networking with others in the industry and can then choose between one of four morning technical tours - The Met Office; Energetica one of Aberdeen City and Shire Economic Future's (ACSEF) flagship projects; Biomass in Action - Puffin Pellets and Banff Academy (coaches will serve these three tours); and Active Sustainable Energy Solutions (to which those who pre-register can make their own way).
Far reaching support
All-Energy is held in association with RenewableUK, Scottish Renewables, UK Trade & Investment and AREG (Aberdeen Renewable Energy Group). The Society for Underwater Technology is the event's learned society patron and it is supported by over 30 government departments, professional institutes and trade associations.
Online registration is open, and free to all with a professional/business interest in renewable energy. Full information on all aspects of All-Energy 2011 is available at www.all-energy.co.uk and from info@all-energy.co.uk and +44 (0)845 0758180.
ENDS
Featured Product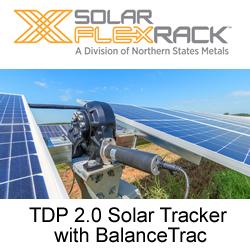 Solar FlexRack's latest solar tracker technology bundles an advanced tracker design with a full team of seasoned engineering and installation experts at your service. The next-generation solar tracker delivers a package of features that both enable increased energy yields for commercial and utility-scale solar installations, and significantly reduce project risks. That translates to smart installation cost-savings across your project budget.