Navigant (NYSE: NCI) announced today that its Solar Services Program has released its annual report Photovoltaic Manufacturer Shipments, Capacity & Competitive Analysis 2010/2011. This detailed annual report provides analysis of photovoltaic (PV) industry shipments, capacity, average prices and revenues along with an analysis of the industry's extraordinarily strong growth. In 2010, shipments to the first point of sale in the PV industry grew significantly, up 120% from 7.9‐GWp in 2009 to 17.4‐GWp.
"Challenges aren't new to PV manufacturers," explained Paula Mints, a Director at Navigant and Principal Analyst for its Solar Services Program. "The industry continues to face margin pressure from decreasing incentives along with anxiety over the potential cessation of the incentives that drive industry demand. Despite these stresses, PV manufacturers continue to drive down costs and increase efficiency while remaining committed to raising PV's share of the energy market."

In addition to more than 200 tables and figures, report readers will find useful information about industry metrics and trends, such as: analyses of capacity, shipments and pricing in the aggregate, regionally, and by technology; analysis of 36 years of pricing data and trends; and forecasts of shipments by technology and technology revenues. This year's report includes a chapter on Concentrating Solar Power and Concentrated Photovoltaics technology and an appendix providing an overview of available module products from technology manufacturers:
Manufacturers in China/Taiwan increased capacity by 125% in 2010 over 2009, with shipments growing by 154% and capacity utilization of 79%. The manufacturers in this region had 53% of global capacity and 54% of shipments. If all expected expansions take place, capacity, now at 11.9‐GWp, is expected to increase by 50% to 70% in 2011 for manufacturers in this region. Planned increases could conceivably give the region a 60% share of global capacity, ensuring significant pressure on margins and prices for manufacturers in other regions.
An examination of the demand‐side of the market for all solar technologies will be available in a separate report from Navigant, the Analysis of Worldwide Markets for Photovoltaic Products and Five‐Year Application Forecast 2010/2011 anticipated in August 2011.
Photovoltaic Manufacturer Shipments, Capacity & Competitive Analysis 2010/2011 can be purchased by clicking here or visiting www.navigant.com/solarreport. For additional content information, table of contents, or a report brochure, please contact Jessica Donnelly, at 650‐849‐1151.
About Navigant
Navigant (NYSE: NCI) is a specialized, global expert services firm dedicated to assisting clients in creating and protecting value in the face of critical business risks and opportunities. Through senior level engagement with clients, Navigant professionals combine technical expertise in Disputes and Investigations, Economics, Financial Advisory and Management Consulting, with business pragmatism in the highly regulated Construction, Energy, Financial Services and Healthcare industries to support clients in addressing their most critical business needs. More information about Navigant can be found at www.navigantconsulting.com.
* The information contained in this press release concerning the report, "Photovoltaic Manufacturer Shipments, Capacity & Competitive Analysis 2010/2011" is a summary and reflects Navigant's current expectations based on market data and trend analysis. Navigant's market predictions and expectations are inherently uncertain and actual results may differ materially. Please refer to the full Navigant report for a complete understanding of the assumptions underlying the report's conclusions and the methodologies used by Navigant to create the report. Navigant undertakes no obligation to update any of the information contained in this press release or the report.
Featured Product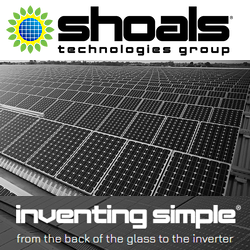 Inventing Simple® isn't just a slogan to us, it's a way of life. Using simple plug-and-play ideology, we revolutionized solar installations in 2003 with our Interconnect System™. Our harnessing system is now the gold standard EPC's use around the world. By using simple ideas, we are making solar energy a more affordable and clean power source for future generations.