Ontario, Canada's Clean Energy Plan Creates Another 50 Jobs
Ontario's clean energy economy continues to grow, creating 50 new jobs in Vaughan.

Sungrow Canada Inc. has established its North American headquarters in Vaughan - part of the company's $10 million investment in Ontario.
The new facility will manufacture solar inverters, as well as do research and development, and provide technical support. Solar inverters convert the energy generated by solar panels into power that is usable by the electricity grid.
Sungrow Canada is one of more than 30 companies that have publicly announced plans to set up or expand manufacturing facilities in Ontario that produce equipment for wind or solar power projects.
By shutting down coal-fired generation and moving to renewable energy sources like wind, solar and water, Ontario is becoming a world leader in the clean energy industry.
"Sungrow Canada's investment is moving Ontario forward as a clean energy leader and a destination point for renewable energy projects and manufacturing. Projects like this help to get Ontario off of smog-producing coal, help create thousands of jobs and create a healthy, prosperous future for our children and grandchildren," said Brad Duguid, Minister of Energy.
"These are the jobs of tomorrow, here in Vaughan, starting today. A key advantage of Ontario's clean energy program is that it establishes leadership in a global industry that will only grow stronger. People want clean air and safe power. Our plan ensures that customers the world over will be coming to Ontario businesses to meet those needs," said Greg Sorbara, MPP for Vaughan.
"We are proud to select Ontario for the headquarters for our North American operations. Ontario's Feed-In Tariff program has opened up new markets for us and we look forward to expanding our business and reaching new customers with made-in-Ontario solar inverters," said Feizhen Lu, President and CEO, Sungrow Canada Inc.
Quick Facts:
• Sungrow Canada Inc. is a joint venture between Sungrow Power Supply Co. Ltd., China's largest inverter manufacturer, and HiFi Solar Energy Ltd.
• More than 4,600 small-scale solar projects have been connected in Ontario.
• Ontario is Canada's leader in solar capacity and is home to the world's largest operational solar photovoltaic farm in Sarnia.
-30-
For more information, contact:
Patricia Pytel, Media Relations, Brand Marketing
Ministry of Economic Development and Trade
Tel: 416-314-8704
E-mail: Patricia.Pytel@ontario.ca
Lindsey Schober, Account Executive
BlissPR
Tel: 312.577.0043
Email: Lindsey@blisspr.com
Featured Product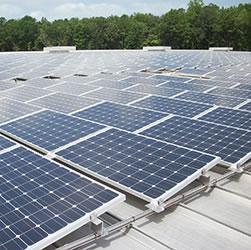 The Power Rail™ Commercial Mounting System is designed with the professional PV solar installer in mind. Both the XD/UD and LD/MD rails feature single tool assembly with the revolutionary patented RAD™ Lock-in-Place bolt for fast and secure module clamping. The high strength marine-grade aluminum rails include an integral wiring channel for securing cables and providing a professional finish.