Mr. Nguyen to lead Corvus' manufacturing and engineering practices
Corvus Energy Ltd., manufacturer of the world's most powerful lithium-polymer batteries, today named Brian Nguyen vice president of operations. Since launching in 2009, Corvus Energy has rapidly become one of Canada's most watched technology companies through its developments in hybrid and full-electric propulsion systems for a variety of vehicles, from ocean submersibles to lunar rovers, and advanced storage and distribution solutions for the renewable energy industry.

Mr. Nguyen brings more than 15 years of proven skills and successful track records in strategic planning as well as hands-on execution in operations to Corvus Energy. He possesses a strong combination of leadership, management, interpersonal skills and technical proficiency, and will be a key player in maintaining Corvus' world-class lean manufacturing and engineering practices.
Prior to joining Corvus, Mr. Nguyen held key leadership positions at Sony Manufacturing System Corp, Ballard Power Systems, Ultrasonix Medical Corp and Tavrida Electric North America.
Previously, Mr. Nguyen was responsible for leading new product introduction activities throughout nine factories within Sony Manufacturing System Corp. as well as was in charge of leading Ballard Power Systems' manufacturing team to launch the world's first 1.2KW fuel cell product on time and on budget.
Mr. Nguyen played a key role in implementing lean manufacturing philosophy to support Ultrasonix Medical Corporation's growth from $5 million to $30 million in revenue in two years with no head count increases within the manufacturing team as well as successfully led Ultrasonix to achieve a 30 percent cost reduction in its product lines within a 12 month period.
At Corvus, Mr. Nguyen will be in charge of global operations, including issuing quotes, coordinating production with procurement and overseeing factory set up.
Corvus' super lithium-polymer energy storage modules last 10 times as long, have four to 10 times the power and energy storage of lead-acid batteries in one quarter of the weight and volume. They are an ideal energy storage solution that can act as a standby source of electricity or support fuel-driven engines to reduce fuel consumption by up to 80 percent in large-scale industrial applications. The marine industry, ports industry and grid related applications are a few of the areas that can be optimized using Corvus Energy solutions.
Each module delivers at least 22 percent more power and energy density than the most powerful lithium-ion phosphate batteries used in electric vehicles and consumer products. The result equals cost savings in the form of reduced battery replacement and maintenance, increased usable battery power, a smaller environmental footprint and less weight.
About Corvus Energy:
Corvus Energy is based in Richmond, B.C. and provides industrial-sized power in a compact, modular lithium battery system to the commercial marine industry, transportation industry, ports machinery, remote community, off grid and grid energy markets. Its revolutionary battery modules have the capacity to output sustained power comparable to diesel engines in hybrid and full-electric vessels and vehicles. For more information on Corvus Energy, please visit www.corvus-energy.com or call (604) 227- 2080.
Media Contacts:
Grant Brown, marketing director for Corvus Energy
Tel: (604) 227-0283; e-mail: gbrown@corvus-energy.com
Christina Erb, public relations manager
Tel: (360) 313-7070, ext 2; e-mail: christina@hayterpr.com
Featured Product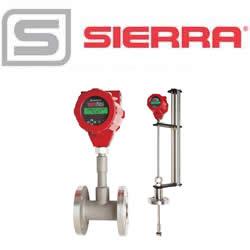 Sierra was the first to introduce a combination volumetric vortex and multivariable mass flow meter in 1997. Today, Sierra's completely redesigned InnovaMass® iSeries™ 240i/241i builds on two decades of success measuring five process variables for gas, liquid and steam with one connection. Now, with the latest hyper-fast microprocessors, robust software applications, field diagnostic and adjustment capability, and a new state-of-the-art flow calibration facility, Sierra's vortex iSeries delivers precision, performance, and application flexibility never before possible.