Free training offered by Fronius during ASES - Solar 2011
Fronius Inverter Training Offered in Raleigh, NC on May 19-20th

Brighton, MI, May 4, 2011 - Fronius USA is offering training for qualified PV professionals on the Fronius IG Plus and IG series inverters, the new CL PV Central inverter as well as an overview of Fronius DATCOM options. These classes take place during ASES - Solar 2011 in Raleigh, North Carolina and are located adjacent to the Raleigh Convention Center.
This free, four-hour course is designed for installers and PV system designers. Various topics will be covered, including Fronius inverter technology, system design, best practices in installation procedures, trouble shooting, product features and benefits and highlights of Fronius DATCOM system options. This class has been certified for continuing education credit from the National Association of Board-Certified Energy Practitioners (NABCEP).
Four different time slots are available over two days. The schedule is as follows:
• Thursday, May 19, 2011 - 8:00 am - Noon
• Thursday, May 19, 2011 - 1:00 pm - 5:00 pm
• Friday, May 20, 2011 - 8:00 am - Noon
• Friday, May 20, 2011 - 1:00 pm - 5:00 pm
Location:
Marriot Raleigh City Center, Chancellor Room
500 Fayetteville Street, Raleigh, NC 27601
Hotel phone: 919-833-1120
Map
Register today. Space is limited!
Register here
About Fronius
Fronius USA is a subsidiary of Fronius International GmbH, headquartered in Austria. With 3,250 employees worldwide, the company is a leader in the fields of battery charging systems, welding technology and solar electronics. Approximately 90% of its products are exported through seventeen international Fronius subsidiaries and sales partners in more than sixty countries. With more than 350 employees dedicated to research and development, and 737 active patents forming the basis of its products and service, Fronius is continually improving technologies and creating innovative electronic products for the modern marketplace.
Featured Product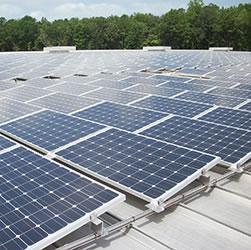 The Power Rail™ Commercial Mounting System is designed with the professional PV solar installer in mind. Both the XD/UD and LD/MD rails feature single tool assembly with the revolutionary patented RAD™ Lock-in-Place bolt for fast and secure module clamping. The high strength marine-grade aluminum rails include an integral wiring channel for securing cables and providing a professional finish.