In a bid to identify the tipping point between scale and cost efficiency, the latest report from CSP Today, 'CSP Parabolic Trough Report: Costs and Performance', challenges the conventional wisdom on scale and cost.
Scaling up plant size is often cited as the concentrated solar power sector's silver bullet for lowering costs. The theory - that an inverse relationship exists between the levelised cost of energy (LCOE) and power plant size - appears to be supported by the current trend toward mega projects in the US, (anything from 100 to 280MW), the clustering of 50MW plants in Spain, and Spain's recent decision to accept bids for 80MW plants.

But the argument for scaling up could yet be flawed. Providing a concise breakdown of the current LCOE across a range of concentrated solar power parabolic (CSP) trough plant sizes, the latest research form CSP Today delivers startling insight into why bigger isn't necessarily better.
False economy?
The accepted argument for scaling up is that, when increasing plant capacity, the relatively lower cost of components contributes to a lower LCOE. This is because higher volume sales yield more competitive prices from suppliers.
While an increase in plant size may lead to a general decrease in the LCOE due to power block savings ($/MW), the interaction between variables could erode this advantage, says the report.
"Increasing capacity by a factor of two does not simply entail enlarging the solar field by an equal amount," says the report's author, Carlos Salazar Marquez. Instead he demonstrates how knock-on effects of enlarging the solar field could ultimately yield a negative affect on the LCOE.
"To combat pressure losses, for example, more pumping is required, leading to higher electricity consumption, reducing the net power output, and reducing larger-scale LCOE benefits," he explains.
In an attempt to pinpoint the optimal plant size, 5 different plant sizes with and without 7.5 hours of thermal energy storage were simulated, taking into account marginal cost inputs and secondary effects.
Exponential O&M costs?
A key question raised during the research was the impact of variables such as O&M on plant running costs, as plant sizes increase. Given the nascent stage of the CSP industry, little is known about the cost impact O&M schedules and how these will play into the overall cost of electricity production.
"As the plant size is increased, it is not entirely known whether new issues would arise, and how they would affect O&M costs," notes Salazar.
In-depth analysis and the results of this research can be found in CSP Today's latest CSP Parabolic Trough Report: Costs and Performance. For more information on how to obtain your copy of the report, please click here.
Bea Gonzalez
CSP Today
bea@csptoday.com
Featured Product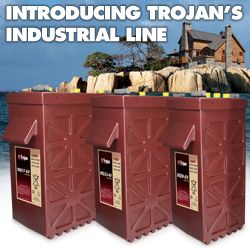 Trojan's deep-cycle batteries provide rugged durability, outstanding performance and long life for use in all types of solar energy installations. With over 90 years of experience, Trojan delivers the world's most reliable and trusted batteries in flooded, AGM, Gel, and Lithium types. These batteries enable solar equipment systems to operate at a peak level of performance in the harshest conditions or the most challenging of locations and are manufactured and tested to IEC standards.