Second Annual Expo brings consumers and experts together, May 13-15, Timonium Fairgrounds Expo opens with Governor Martin O'Malley's Energy Summit: A Roundtable on Maryland's Energy Future
From Maryland Governor Martin O'Malley's roundtable on the future of renewable energy in Maryland, to a keynote address on electric vehicles, to exhibits by national solar and wind energy companies to fun rides on all-electric Segways, there is something for everyone at the Second Annual Solar and Wind Expo, held May 13-15 at the Timonium Fairgrounds.

Governor O'Malley will open the Expo at 9:30 a.m. on Friday, May 13, with his energy summit, a review of strategies, and a discussion of industry trends and opportunities. The governor seeks public input on Maryland's energy future as we continue to create a smarter, greener, more sustainable and prosperous Maryland.
"The Solar and Wind Expo is a clearinghouse of information for the public on the latest news and information regarding green energy," said Solar and Wind Expo Executive Director George Lopez. "This is the right time to bring consumers and experts together, given technology advancements and government financial incentives. There are affordable technologies on the market right now so we want to show the public that the time for these investment is now."
Chelsea Sexton, the electric vehicle's top advocate and star of the popular "Who Killed the Electric Car" documentary film, will present the keynote address on Saturday, May 14, at noon. She will update Expo attendees on the future of electric vehicles. Sexton is a veteran clean transportation and energy advocate. She has served as Director of the Automotive X PRIZE, Senior Advisor to VantagePoint Venture Partners' Cleantech practice, and co-founder of Plug In America, the largest consumer-oriented electric drive advocacy group. She founded the Lightning Rod Foundation, an advisory and educational organization. Sexton is a Consulting Producer on Chris Paine's just-released film, "Revenge of the Electric Car."
Consumer seminar topics include topics such as:
• Benefits of Switching to Renewable Energy
• Solar, Wind and Geothermal Power and Why Now is the Time
• The Consumer's Checklist for Saving Energy and Sustaining our Environment
• Financing Programs Available Right Now
• Solar Purchasing Plans to Fit Your Budget
• Benefits of Weatherization
• Energy Efficiency/Clean Energy Quiz
• Solar Water Heating: A Mature Technology with Enormous Potential
• Community-Initiated Solar PV Systems Using a Power Purchase Agreement
• Green Building Design
• Design, Procure, and Construct an Innovative Renewable Energy System
The Expo will host seminars for renewable energy professionals on Friday, May 13.
The Solar and Wind Expo received accolades from Expo attendees and exhibitors in May 2010 when it brought top-quality clean energy advocates to consumers in the east coast region. This year's Expo promises to do so again.
The Solar and Wind Expo's hours are 9:30 a.m. - 7 p.m. on Friday, May 13, and 10 a.m. - 6 p.m. Saturday and Sunday, May 14 & 15. Tickets are $12 for adults, $10 if purchased online; children under 12 admitted free. Discounts are available online.
Featured Product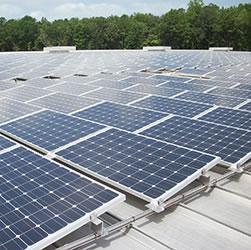 The Power Rail™ Commercial Mounting System is designed with the professional PV solar installer in mind. Both the XD/UD and LD/MD rails feature single tool assembly with the revolutionary patented RAD™ Lock-in-Place bolt for fast and secure module clamping. The high strength marine-grade aluminum rails include an integral wiring channel for securing cables and providing a professional finish.