Arise Windpower AB: Interim report for the year 1 January - 31 March 2011
LAHOLM, Sweden--(BUSINESS WIRE)--Regulatory News:

· Net sales during the quarter were MSEK 41.3 (14.3).
· The operating result before depreciation (EBITDA) was MSEK 36.5 (4.1).
· The operating result (EBIT) was MSEK 24.4 (-2.4).
· Earnings after tax were MSEK 13.5 (-4.9) which corresponds to SEK 0.44 (-0.19) per share.
· The average income per MWh was SEK 789 (761), of which SEK 484 (420) refers to electricity and SEK 305 (341) to electricity certificates.
· A loan agreement has been concluded with Nordea for the funding of the Idhult wind farm. The company now has loan agreements with three Nordic banks.
· Agreements have been signed for the right to acquire the project Jädraås, with its existing permits and with a total potential capacity of 200 MW. Furthermore, a conditional agreement has been signed with Vestas to supply 66 wind turbines, as well as service for the project.
· Warrants have been exercised, whereby the Company, through new share issues, has procured MSEK 9.9 before issue costs.
Significant events after the end of the reporting period
· An agreement has been signed regarding the acquisition of permits for the construction of six wind turbines in Gettnabo, Torsås Municipality, with a total capacity of 12 MW. Construction is scheduled to be undertaken during May 2011, with the takeover and initiation of operations planned for September of the same year.
Halmstad, 10 May 2011 ARISE WINDPOWER AB (publ)
The information contained herein constitutes information which Arise Windpower AB is legally required to publish under the Swedish Securities Market Act (2007:528) and/or the Swedish Financial Instruments Trading Act (1991:980). The information was released for publication at 11.00 a.m. on 10 May 2011.
About Arise Windpower
Arise Windpower is one of Sweden's leading companies in onshore windpower. Arise Windpower's business concept is to sell electricity generated at the company's own onshore wind turbines in southern Sweden. The company is aiming to install and put into operation about 300 wind turbines with an annual output of about 2 TWh of green electricity by 2014. Arise Windpower is listed on NASDAQ OMX Stockholm. www.arisewindpower.se (http://www.arisewindpower.se)
Arise Windpower AB (publ), Box 808, SE-301 18 Halmstad, Sweden, tel. +46 (0)35 20 20 900, org.no. 556274-6726 E-mail: info@arisewindpower.se (info@arisewindpower.se), www.arisewindpower.se (http://www.arisewindpower.se/)
Featured Product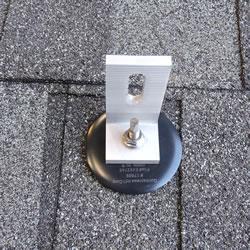 SolarRoofHook's Low Profile QuickBOLT with Microflashingâ"¢ is the industry's affordable, UL Certified Asphalt Shingle mounting system. The Microflashingâ"¢ is compressed by the collar on the bolt to create a water-tight seal. With an installation time of less than one minute, the Low Profile QuickBOLT allows installers to complete more jobs.